The last month has gotten a little away from us!
Between the constant driving, the lack of cell service/internet, and the new scenery, we have been a little MIA. We're going to do our very best to play catch-up on the last month, our adventures in Alaska, and all the ground we've covered in between.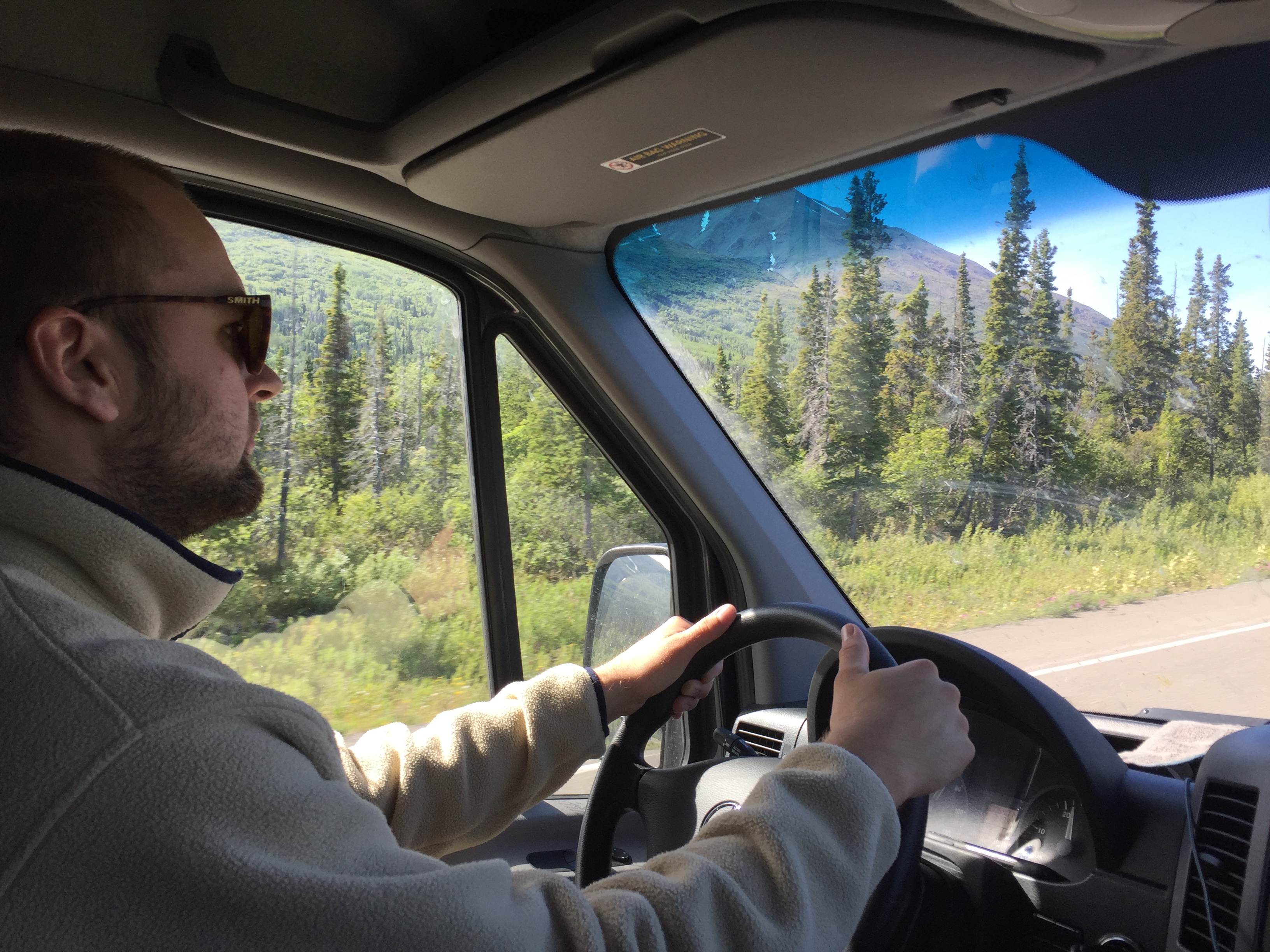 As recently stated, our last day of work was May 31st. We took another 2 weeks to finish off the build process, then packed the car and got ready to hit the road. Unfortunately, we both came down with horrid colds a few days prior to our take-off date, which delayed us a day or two. However, through a cocktail of dayquil, niquil, advil, throat coat, etc. we were able to leave just 2 days behind schedule.
Packing was not as complicated as we anticipated, and if anything, we overpacked.
Our van was filled to the BRIM as we hit highway 26 ready to head North of Oregon towards Alaska. I (Katie) was driving first and we quickly learned what it meant to do a true "ready-to-drive" check before hitting the road. As we headed towards Portland in bumper-to-bumper rush-hour traffic, we quickly came to a hault (more abruptly than I'd like to admit). We had forgotten to check if the cabinets were locked and before we knew it, our top/miscellaneous/junk drawer came FLYING off the tracks and onto the floor of the van. We had to abruptly turn around and head back to Beaverton to fix the cabinets. Afterwards, we were back on the road again.
We took our sweet time making it to Northern Washington. As many of you know, we have our McMemamin's passports and we were able to visit 8 locations and earn 13 stamps. It's safe to say that all we ate for 2 days was McMenamin's food. Afterwards, we drove to Fall City to park on my younger brother (Ben)'s girlfriend's farm. Her name is Jesse and she's the sweetest. We were able to explore her 160 acres of land, feed her goat named Wilson some local grass, visit Snoqualmie Falls, and cross the border to Canada.
Our first leg through Canada consisted of Indian Reservations, lots of Central-Oregon-looking-land, expensive Diesel gas, and not knowing where to park overnight.
We were too hesitant to park in a different country illegally, so we settled and paid 20 American dollars for a campsite near Lytton in BC territory. It ended up being a great first night on our own, where we pulled out our outdoor candle (thanks Grandma Donna!), a new tablecloth, cooked our first meal on the outdoor stove, and finished the night with Pinot Noir by the fire. The next morning, we were up and out by 11AM.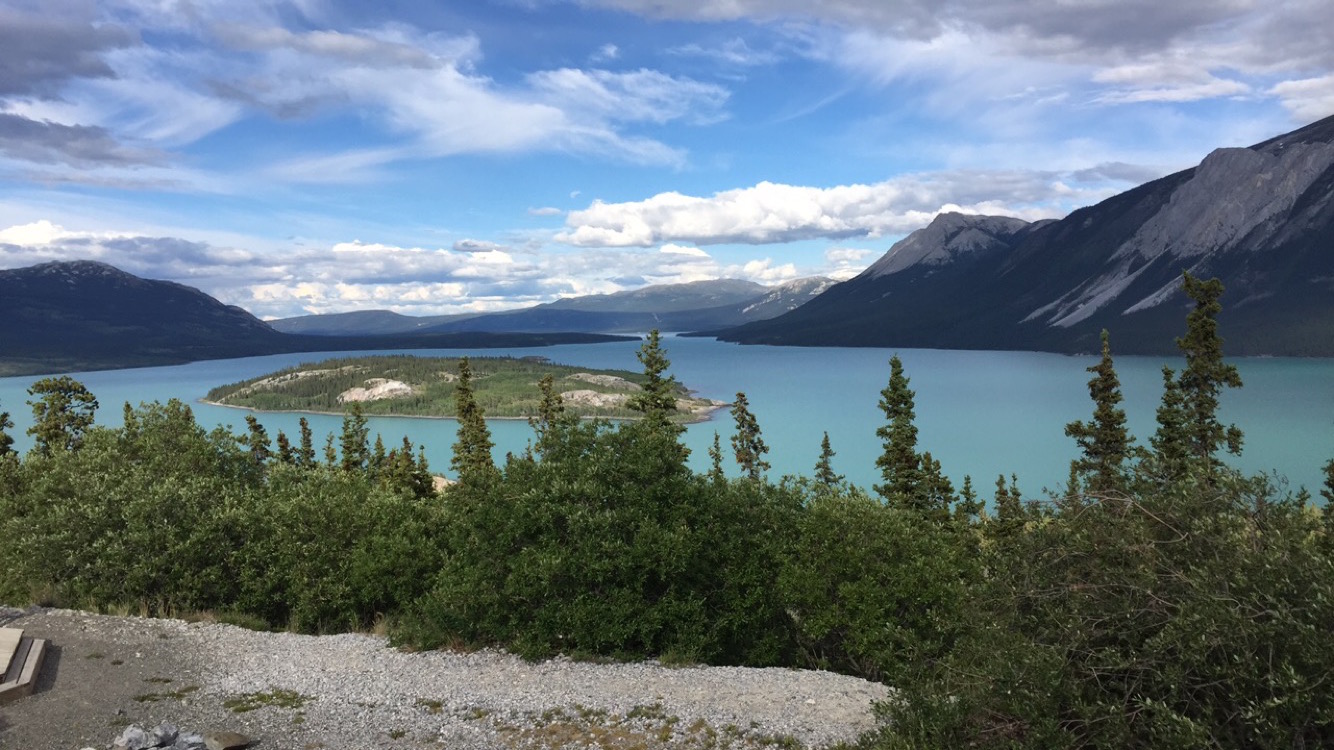 We continued North on highway 12 and made our way to Prince George.
We started to feel our first level of stir-crazy after 6 hours in the car so we decided to stop at 10-mile Lake for some tacos and a shower. It was a bit nerve-racking at first to go to a lake with biodegradable soap and a luffa but we split an IPA and found our courage. With 3 families watching us, we dove into the water, washed our hair/bodies, and relaxed on the shore, finally feeling clean. 
We followed this glorious shower with some amazing parking-lot tacos on our outdoor stove. (I would have really liked to include more photos of this dinner but it's hard to find one without me licking the spoon). We finally finished the last of this leg and made it to Prince George.
I wish I could report that living in a van is always beautiful views overlooking a glorious lake with zero mosquitos flying around, but, sometimes living in a van means parking in a Walmart parking lot at 11PM and falling into bed in the clothes you wore all day without brushing your teeth.
The following day, we FINALLY crossed the border into Alaska (yay back to American territory). My favorite question asked while crossing the numerous borders was, "may I ask what the relationship is?" (Evan's last name is Larson and mine is Larsen….) We can both, without a doubt, express that this was the most beautiful part of the drive. Entering Skagway, Alaska, the land literally splits in 2 with mountain ranges on either side, a beautiful body of water running in the Valley, and an open view of the Ocean in front of you.
We were SO happy to find a local brewery with amazing beer and to finally have reception again. We even splurged and bought 2 beers each and a burger. One of the things that has been challenging is to not get TOO excited when we finally have reception again. We're trying to balance out our blogging, instagram page, touching base with family/friends, and still living in the moment/making sure that we are being attentive enough to one another. This night consisted of unplugging, enjoying each others' company, and snuggling in the comfort of our own country again.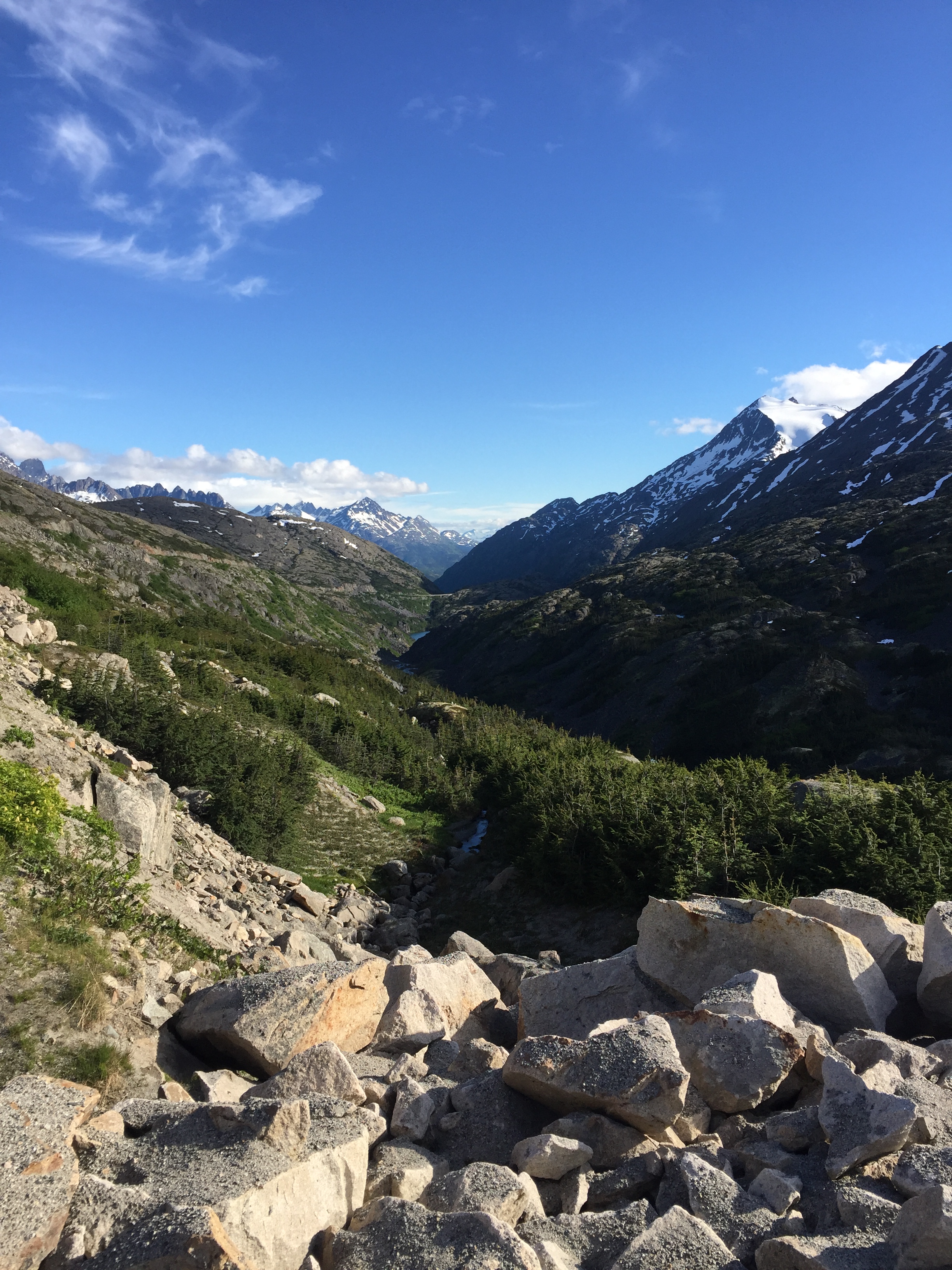 We thought a ferry from Skagway to Haines would be the most efficient way of transportation, and we were right, but we didn't anticipate it costing ONE HUNDRED AND TWENTY-FOUR DOLLARS to travel across a small channel of water. Whatever. We bought a ticket and called it good, and enjoyed the free morning before the ferry ride (we may or may not have had wine with breakfast).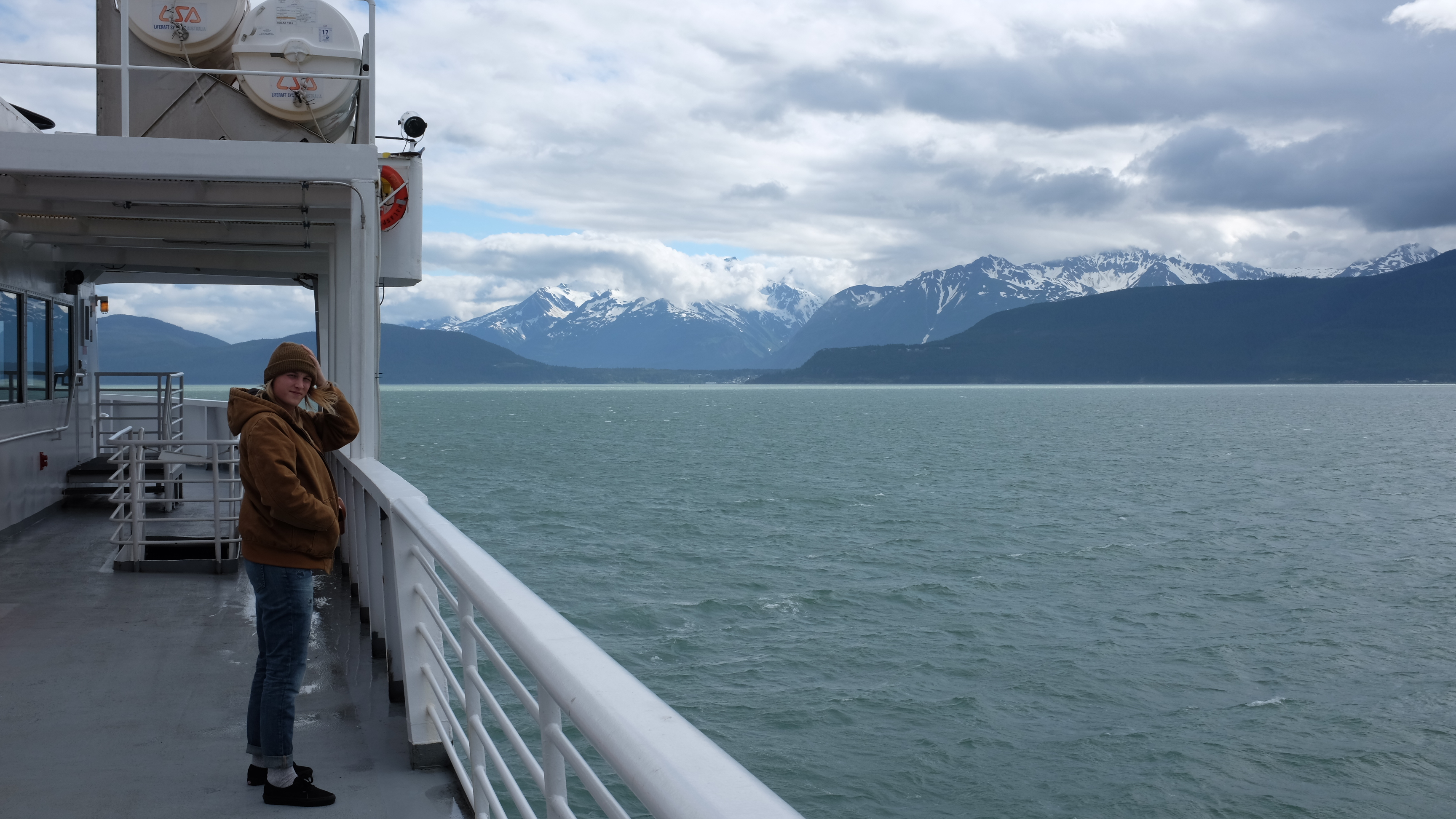 It was so worth it because the view of arriving in Haines via water was absolutely breathtaking.
I'm not sure what I expected Alaska to look like, but the amount of mountain ranges, glacier water, open land, is more than I could have imagined. We toured the small town of Haines (population 1,374 as of 1999, thanks Google…), grocery shopped, and ended up at a local taproom. It was clear that we were the only people present that didn't live there……but somebody chased us down in the parking lot and asked to view our van.
A fellow guy has been living out of his Mazda and climbed into our van to exchange road stories, build horrors, and a simple friendly face (turns out, he actually followed us on IG without realizing it already. We received a direct message from him the next day after we posted, saying he hadn't realized that we were already connected on social media). He led us to a local friend of his who provided a recommendation for beautiful camping. We drove out to the site, with water that was more green than blue, cooked the biggest pan of stir fry I've ever seen, killed a 6-pack, and fell asleep very happy.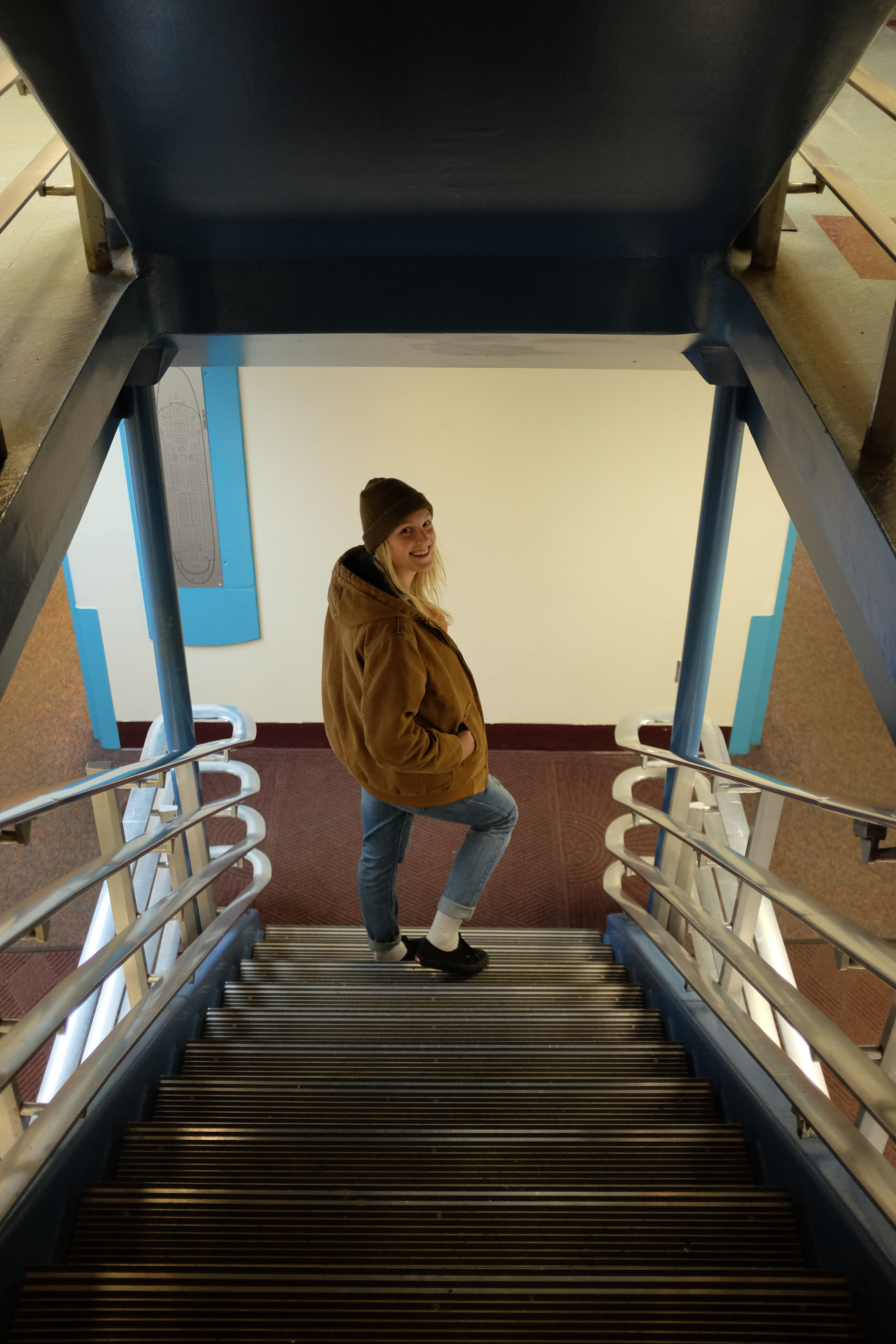 We woke up and did the normal duties, that are not quite as glamorous (once again) as people might think. This includes emptying the grey water tank, throwing out our trash, dumping our portable-toilet into the campsite toilet, etc. But it was all worth it when we drank fresh ground coffee out of our Hydroflasks by a green glacier lake with a BALD EAGLE flying overhead. Welcome to Alaska.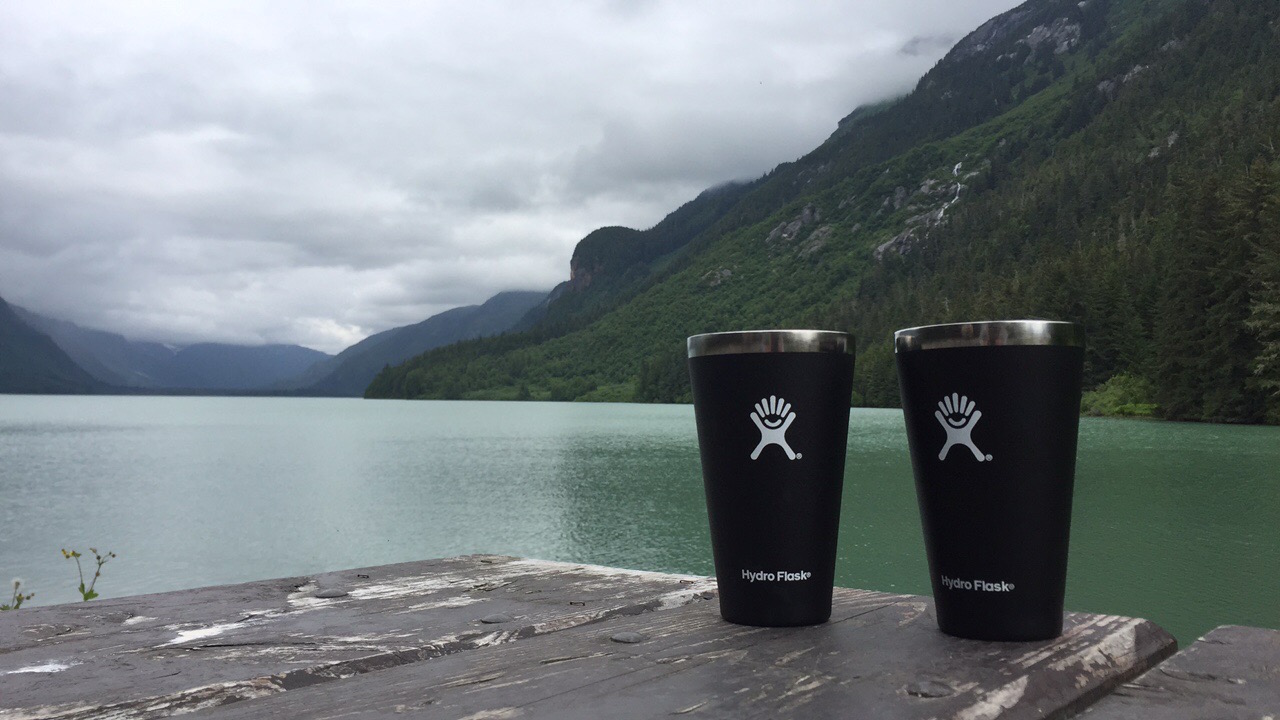 Throughout this trip, there were very specific spots we were looking forward to seeing.
One of the places was a free campsite, recommended by a cutie we follow on Instagram, next to Quill River, barely North of Kathleen Lake, on Haines Junction. Sounds complicated but as we passed it, we quickly recognized it and stopped. We set up a pretty sweet campsite, with a fire from wood we gathered, some local IPAs purchased in the previous town, and got ready for dinner and a shower.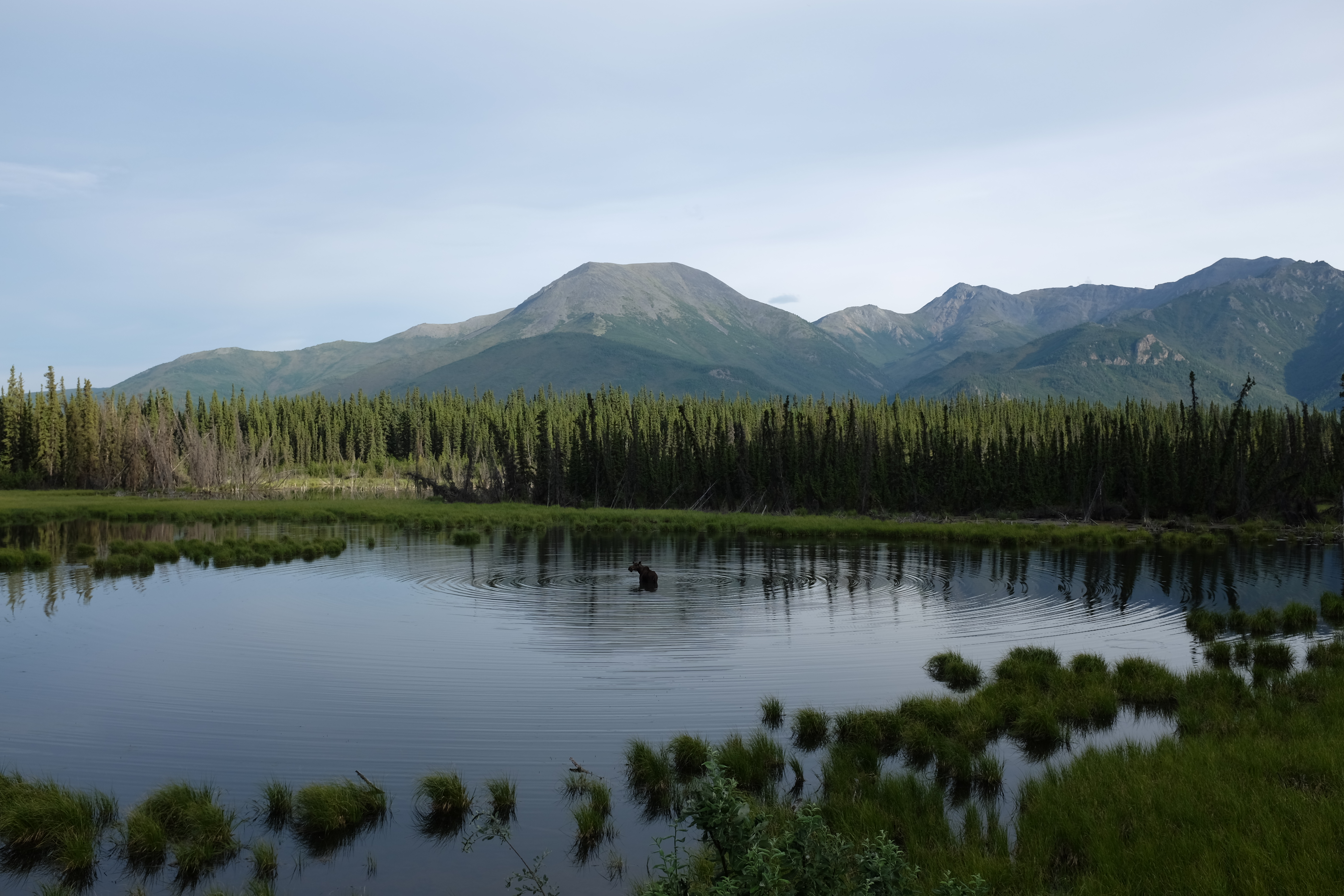 We recently purchased the Road Shower 2 and were so excited to use it for the first time.
I was able to enjoy a thorough 2-minute shower, but Evan wasn't so lucky. As he was soaped up and getting ready to rinse off, the shower stopped working, AND a car turned off the highway into our camping spot (give yourself a good minute to LOL at the chaos this ensued). We frantically got him a pair of shorts, but couldn't figured out the water for him to fully rinse off. He managed to get comfortable and just called it good. Anyways, another car pulled up about an hour later, which held a very enthusiastic wildlife photographer, who we just adored. He stopped taking photos after a while, asked to see our van, and started dreaming with us about the life that living in a van allows and how amazing travel freedom is when you can manage it. We hope to stay connected via social media.
The rest of our trip is going to be summarized much quicker, as it is less action-packed and was spent really trying to get used to the new lifestyle. We made our way up to Fairbanks, where we spent a few days but were honestly not very impressed. We visited the Chena Hot Springs, which was a little over-priced and slightly too packed for our taste (sorry). But we got a free shower out of it so oh well! We then headed down to Anchorage, which we really enjoyed. We splurged for a dinner at 49th State Brewery (UH-MAZING, thanks Griffin) and watched a redbox almost every night.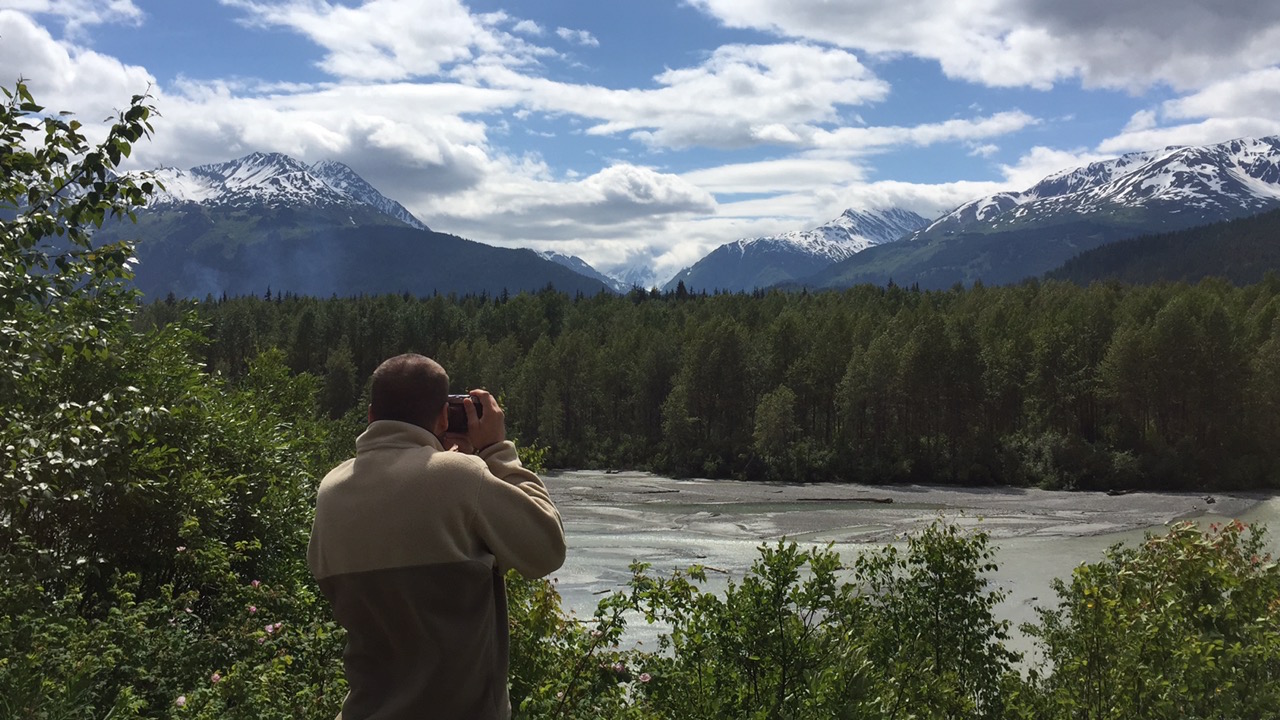 After a bit of laziness, we headed South to the Kenai Peninsula and visited Chugach National Park in Girdwood, Alaska. IT WAS SO BEAUTIFUL.
We did a 2-mile hike to Byron Glacier but mostly stayed near the main road, in fear of bears. They had free camping spots with pre-determined firepits, which is always appreciated as a van-dweller. The next day, we drove through the longest tunnel in North America titled Anton Anderson Memorial Tunnel (spans 2.5 miles) to Whittier, Alaska. This was a small fishing town that you could walk across in 15 minutes but had a great view of many glaciers and fishing boats. We spent the night in town, with a firework show at midnight on July 3rd to kick off the national holiday.
For the actual 4th of July, we met up with an old friend of mine named Matt Dunham. He was hospitable enough to offer us a free shower, local beer, and home-cooked chicken wings. We sat in lawn chairs in a circle as we ate, drank, and chatted. Our 4th couldn't have been more relaxing and enjoyable.
We planned quite a few more stops on the way home but honestly, got a bit eager to see our loved ones and decided to just drive straight. It was still more than fine, with good breaks for meals and stretching in between.
The highway is far from smooth but was definitely worth the views we were fortunate enough to see in Alaska.
The month long trial run was good for us, as we were able to swing by home and re-set before hitting the road again (we had a very good friend's wedding, Matt & April – congrats!) It gave us an opportunity to do a deep-clean of the van, go through every item we brought with us and decide if we still want it, and rearrange all the tubs in the back of the van. It's safe to say that we feel even more prepared to be on the road now than we did last month.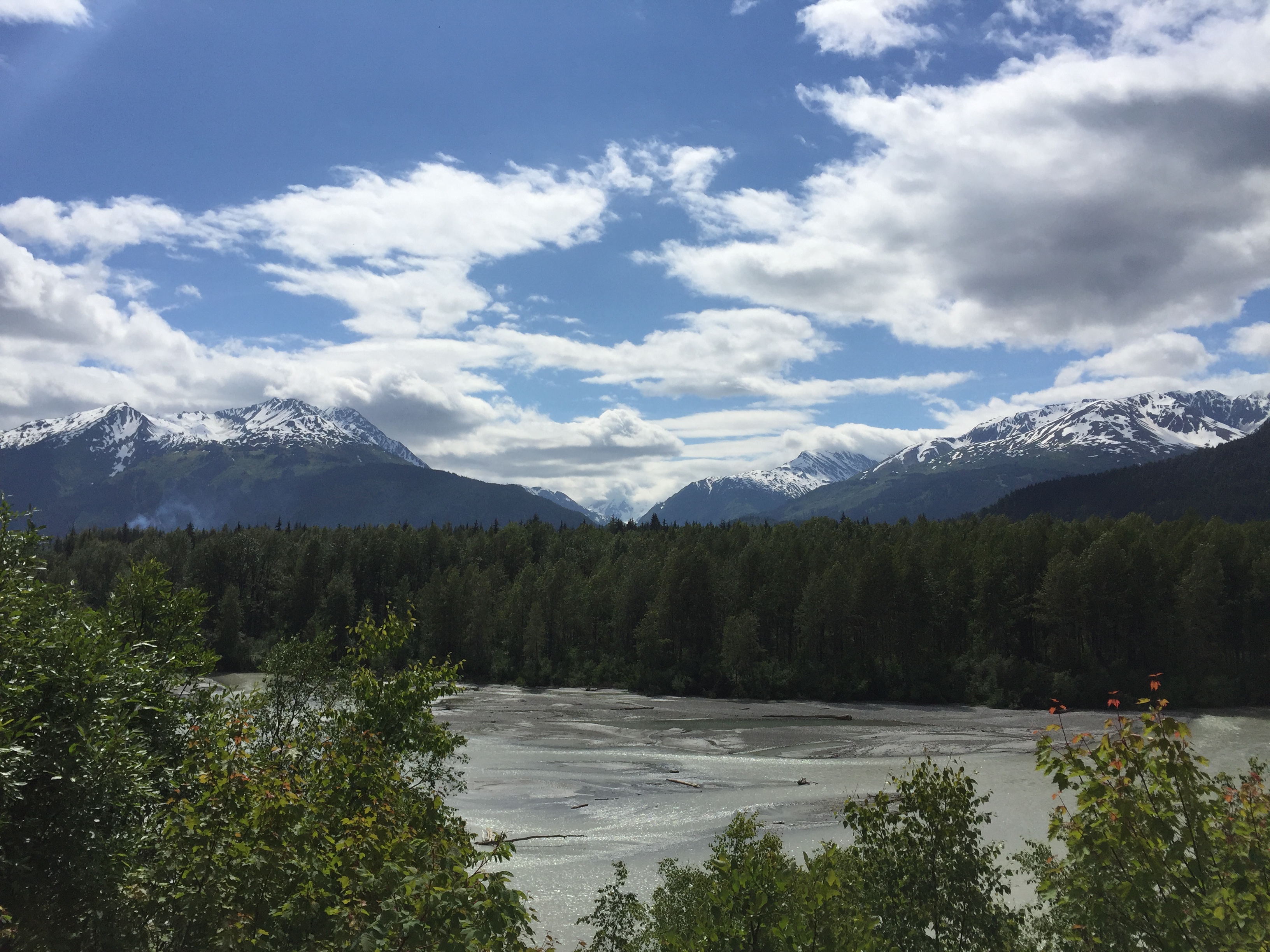 This was WAY TOO LONG of a blog post and we promise to not drag you through this again. If you are anybody besides our Mother's or Grandma's, we're honestly surprised you're still reading this. But regardless, thank you. We love sharing this journey and every nitty-gritty detail of it with you. You are so appreciate! Post soon…