Welcome to our VERY FIRST POST!
We wanted an efficient way to share the entire process of our new adventure with our friends and family. This will allow you all to read about the conversion process of our new adventure van, follow us on our travels, and see photos of everything along the way.
To get everybody up to speed, we recently acquired a 2016 Mercedes Sprinter.
This idea came about when we started dating, just before the summer of 2015. Throughout our first few dates there was a common theme of conversation: incorporating long-term travel into our future together. We talked about different ways to make this happen and ultimately decided that we wanted to travel in a way that would provide freedom, convenience, and simplicity. What better way to make this happen than a self-converted home on wheels, designed and built by yours truly! We began brainstorming vehicles, layouts, wish lists and budgets. We landed on the idea of a sprinter and after months, and months, and MONTHS of searching for the perfect van, we decided to buy new. This allowed us to pick out the features we wanted, ensure that we got the exact size van we wanted, and guarantee that there would be no issues that often arise with purchasing a used car.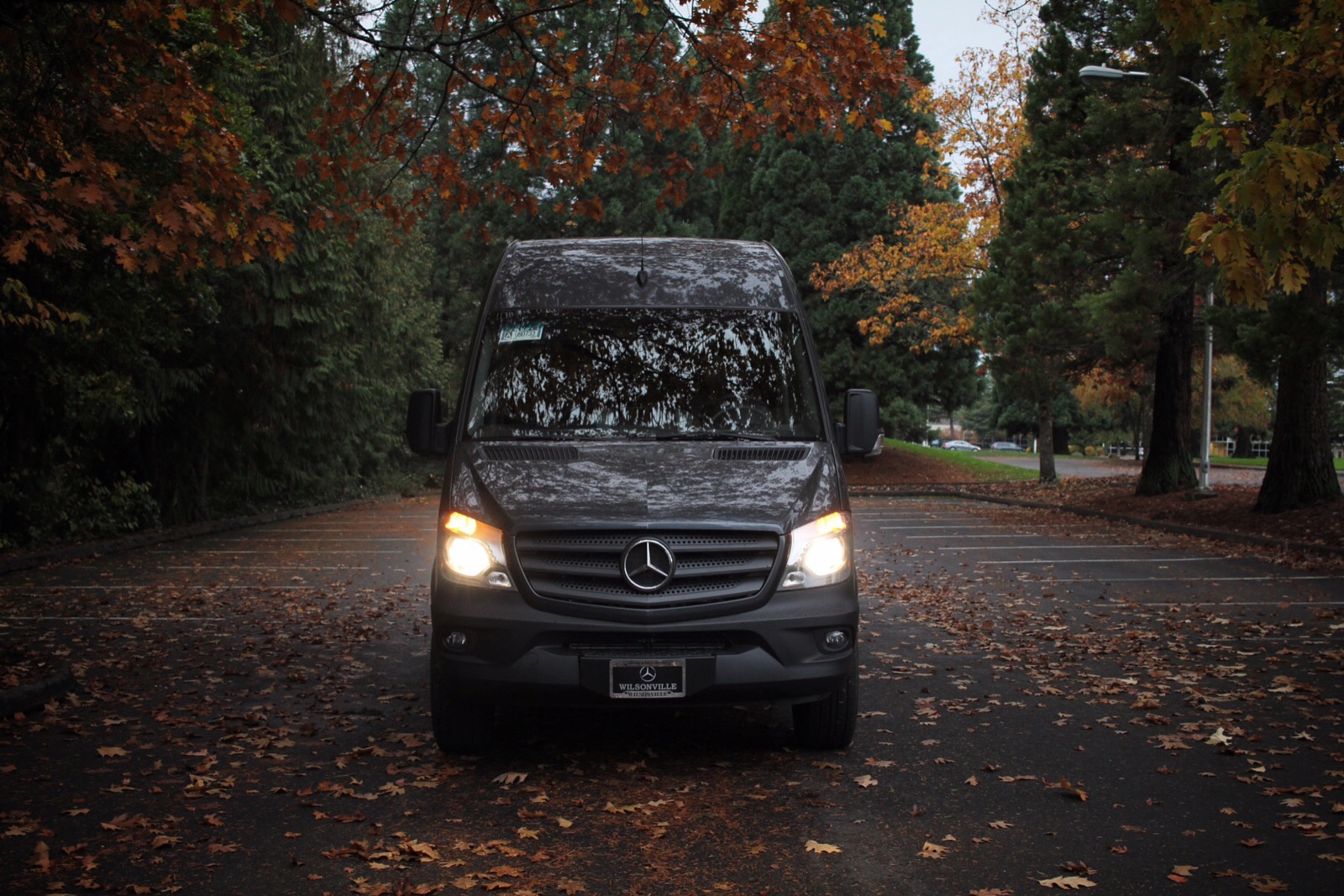 Tom Krause at Mercedes-Benz of Wilsonville was great with our search for a sprinter. We were able to view multiple vehicles and request certain specs before deciding on anything. We landed on a 4-cylinder sprinter in tenorite grey metallic. Some of the features that sold us on this exact sprinter were the seats (leather and heated), the driver efficiency package (cruise control, fog lamps, navigation system), and the high roof.
The sprinter has a 144" wheelbase, 10.4 feet of cargo space and just under 6.5 feet of standing room inside.
Since we have been dreaming of this for a year, we already have a rough sketch of what we would like the conversion to look like. We have a general idea of the layout and the materials we would like to use on the build. We've already prepared the long list of items we will need to purchase in order to live in a car.. Our first step is purchasing and installing windows for the van and a ceiling fan for ventilation. We will keep you all posted on photos of the first alteration!