The last month has been beyond busy with continuously working on the van.
We both were able to put in our 2-weeks notice at work, with our last day falling perfectly at the end of the month. Although our to-do list is still extensive, we have been able to cross numerous projects off the list and increase the build pace. One of our biggest accomplishments has been installing the cabinets. We've also been able to slowly transition from buying and installing larger materials to focusing on more intimate details, such as decor and shelving. Here's some of the latest additions to the build.
Kitchen:
The kitchen cabinets were built all in one piece with deep drawers for optimal storage space. With 3 drawers on the left and a large under-sink area, we will have plenty of space for all dishware and cooking supplies to prep 3 meals a day on the road. We purchased butcher block from Lumber Liquidators in Tigard and received a great price on the large piece. We even have enough extra butcher block to build a removable table that we can use when we swivel our seats around.
Amazon has so many options but we landed on a base for the table that folds out and has an opening in the center to insert a metal pole. The underside of the tabletop has a mount that will secure the table on top of the pole and keep it sturdy enough to eat off (we purchased the metal pole from OnlineMetals.com).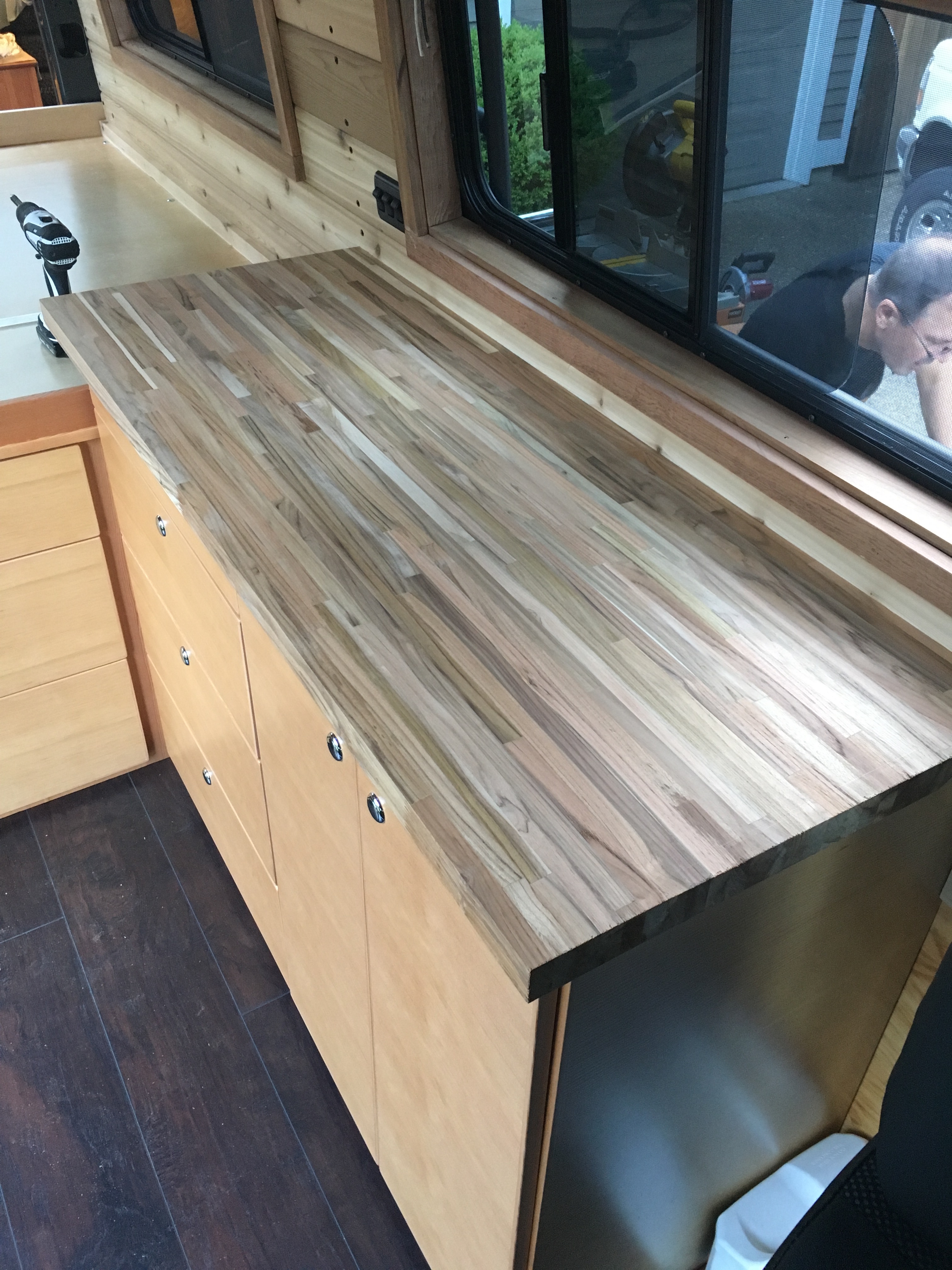 This stainless steel undermount sink is made by Dawn and is small enough for the van but still functional enough to wash dishes in. Following similar plumbing styles of other van-dwellers, we purchased a pre-pressurized accumulator tank and a twist-on pipe strainer to utilize water flow and pressure. We made sure to purchase a pull-down faucet in hopes of conserving water when we clean-up meals, as our fresh water tank only holds 10 gallons. The grey water tank also holds 10 gallons and fits perfectly under the sink. Our Atwood stove (also stainless steel) has two different sized burners. We haven't quite put this section together but plan to buy the rest of the plumbing supplies this week.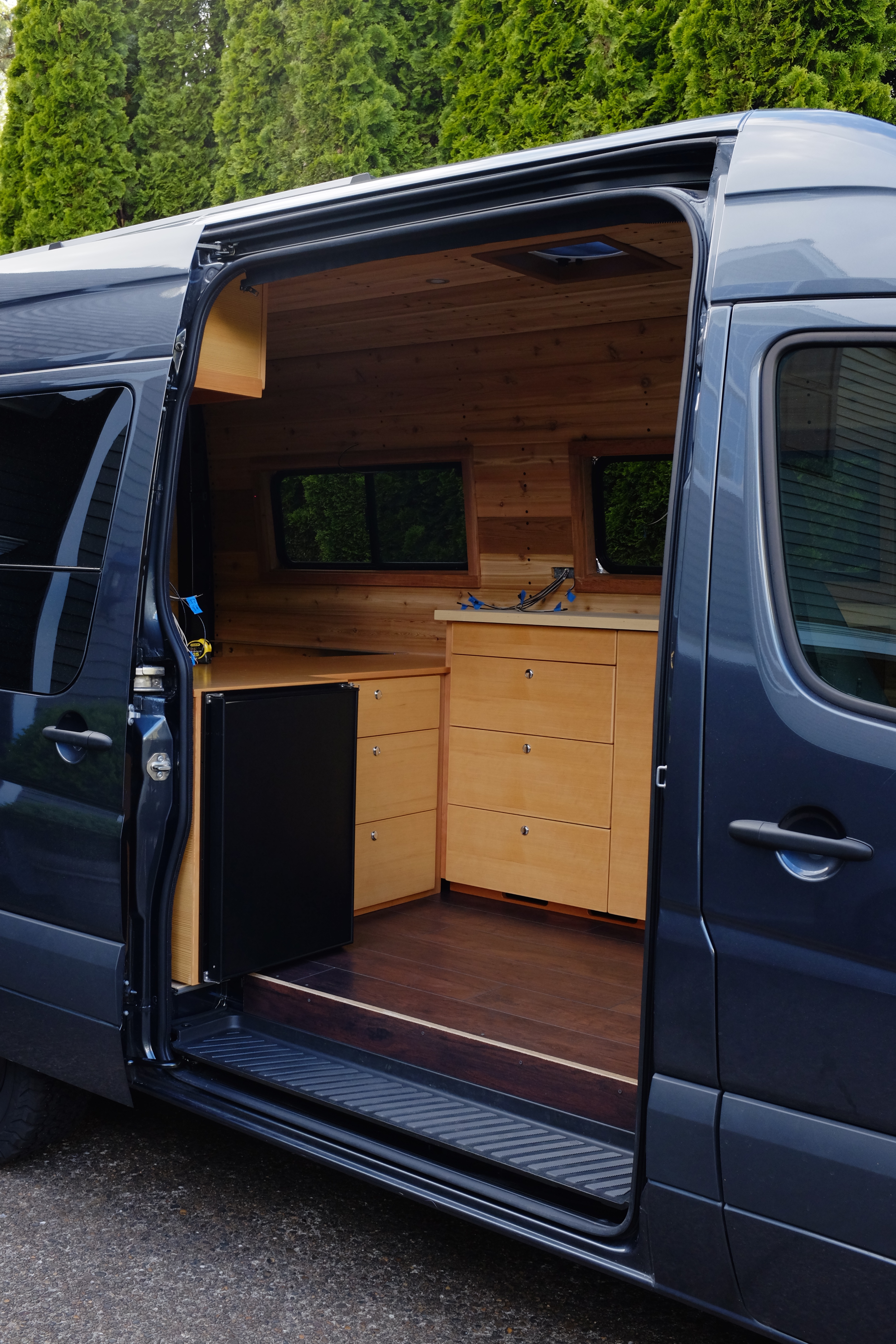 Cabinets:
Although we designed and measured the cabinets ourselves, we ultimately decided to have them done professionally. Since our build includes hanging cabinets, we really wanted to make sure that the build was sturdy and would be secure with the constant rattling while driving. They turned out AMAZING. The hardware has a push feature that pops out to unlock and open the cabinet doors and secures the doors once pushed again. They even include a slow-close feature. The natural color of the fir wood turned out beautifully and we truly couldn't be more happy.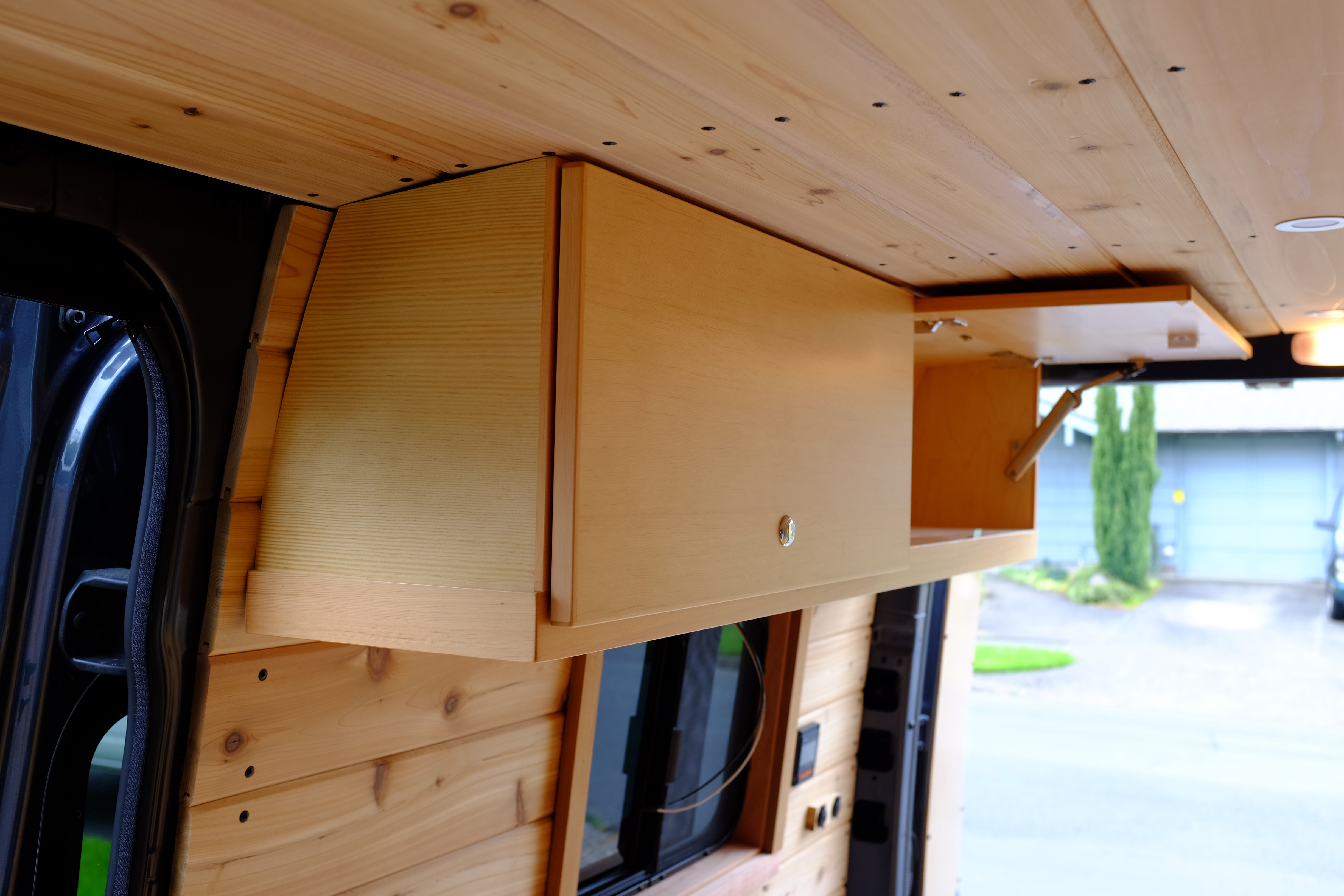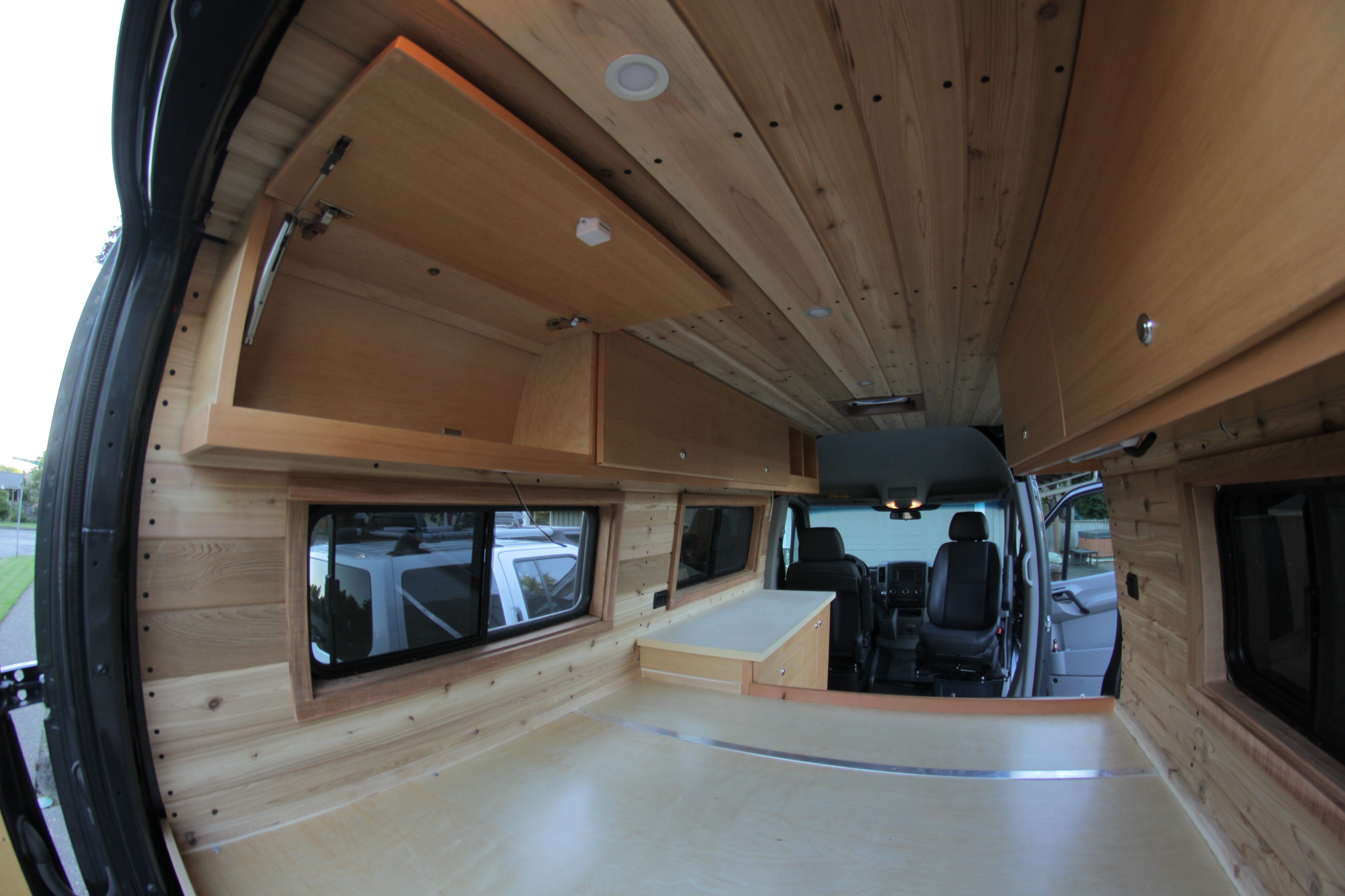 Organization:
We both are VERY clean and thoroughly enjoy living in an organized space. WestMarine has awesome teak decor and we went a little crazy….we bought 2 utility shelves for under the sink to hold cleaning supplies, spice racks for around the kitchen, and (our favorite) a double-cup holder that coincidentally holds beer bottles perfectly.  Storables was also a necessary stop, where we found some metal baskets to install on the back doors, our paper towel/hand towel holders, and a few other small items. We don't have any of these photos yet but we'll be sure to post some as soon as we install all racks and shelving.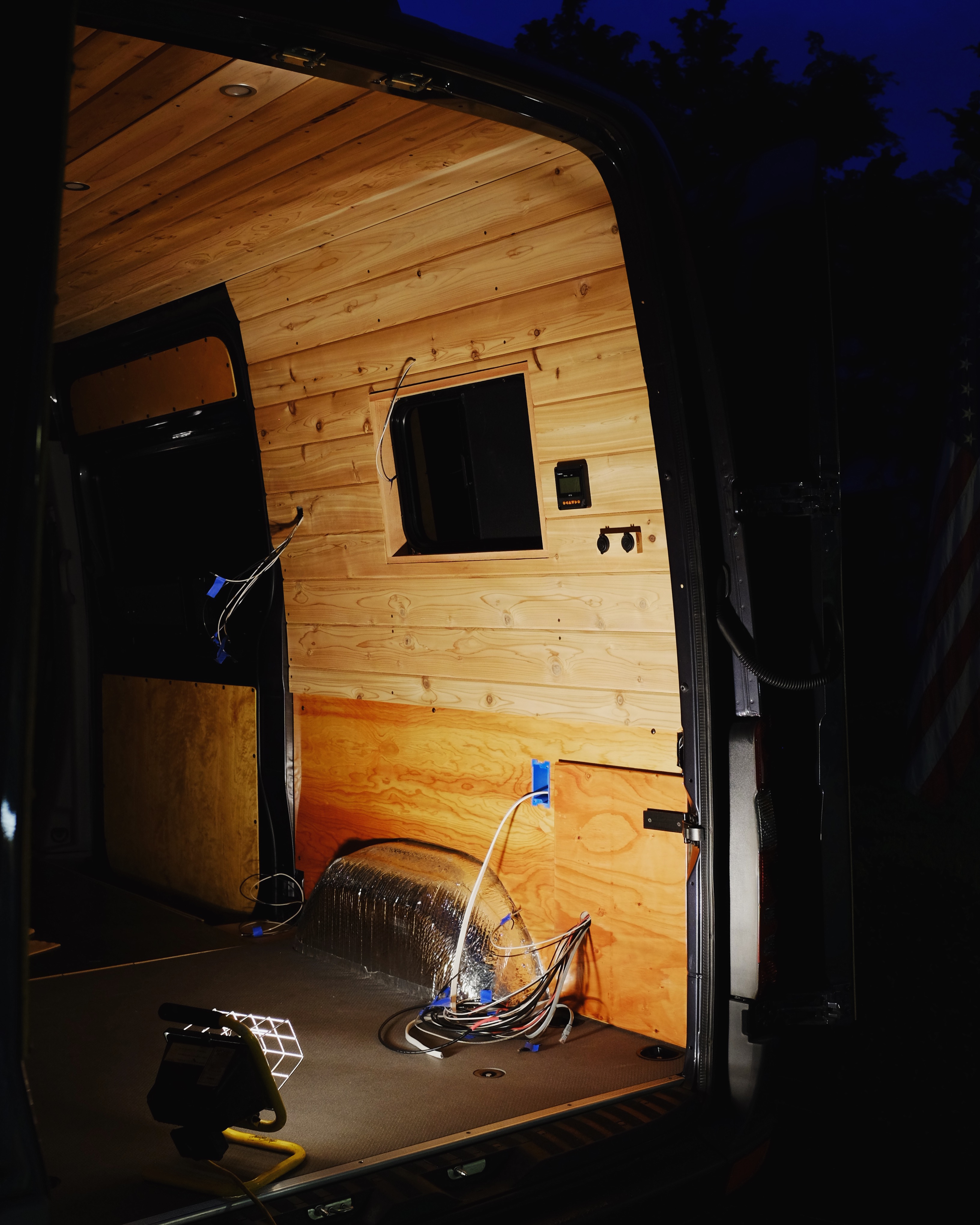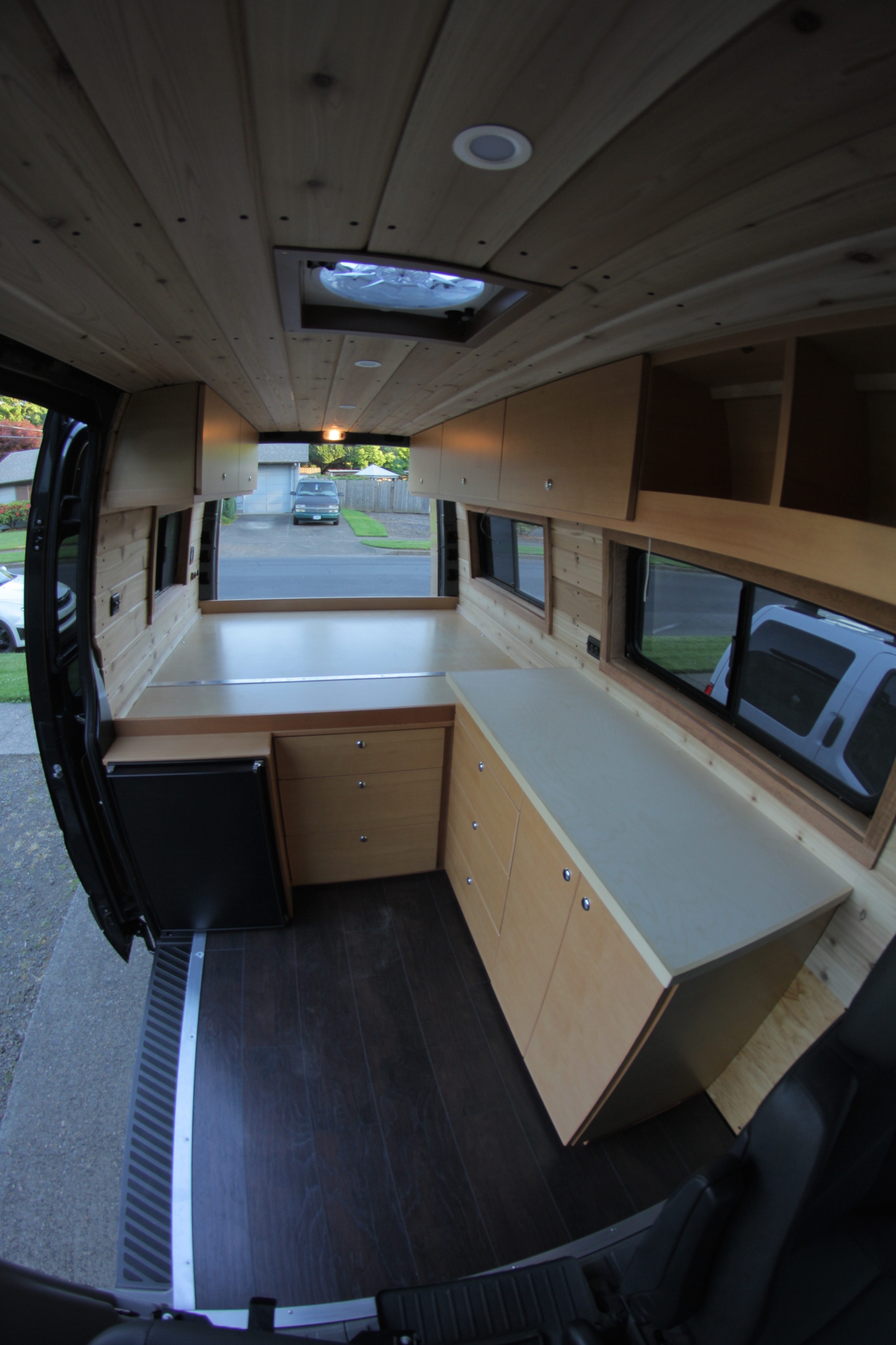 Miscellaneous:
Buying decor for the van is something we've been looking forward to for a while. We started with some necessities, such as window covers (hand-sewn canvas filled with reflectix for insulation), a propane tank, and a safe that we'll bolt to the floor. Then we moved to more fun items: a teak shower mat, various tablecloths for the REI co-op kingdom table we recently bought, a hanging fruit basket, and a small hanging plant holder. The plugs near our bed include a 12-volt socket, which we found a small fan for.
One of the bigger recent additions is the road shower 2, a custom quick-connect with a longer hose, and a new nozzle. We also caved and bought an (expensive) mosquito net for the sliding door, allowing for even more airflow. Lastly, we found an awesome Hairo hand coffee grinder that doubles as a sealed canister to hold our coffee grounds.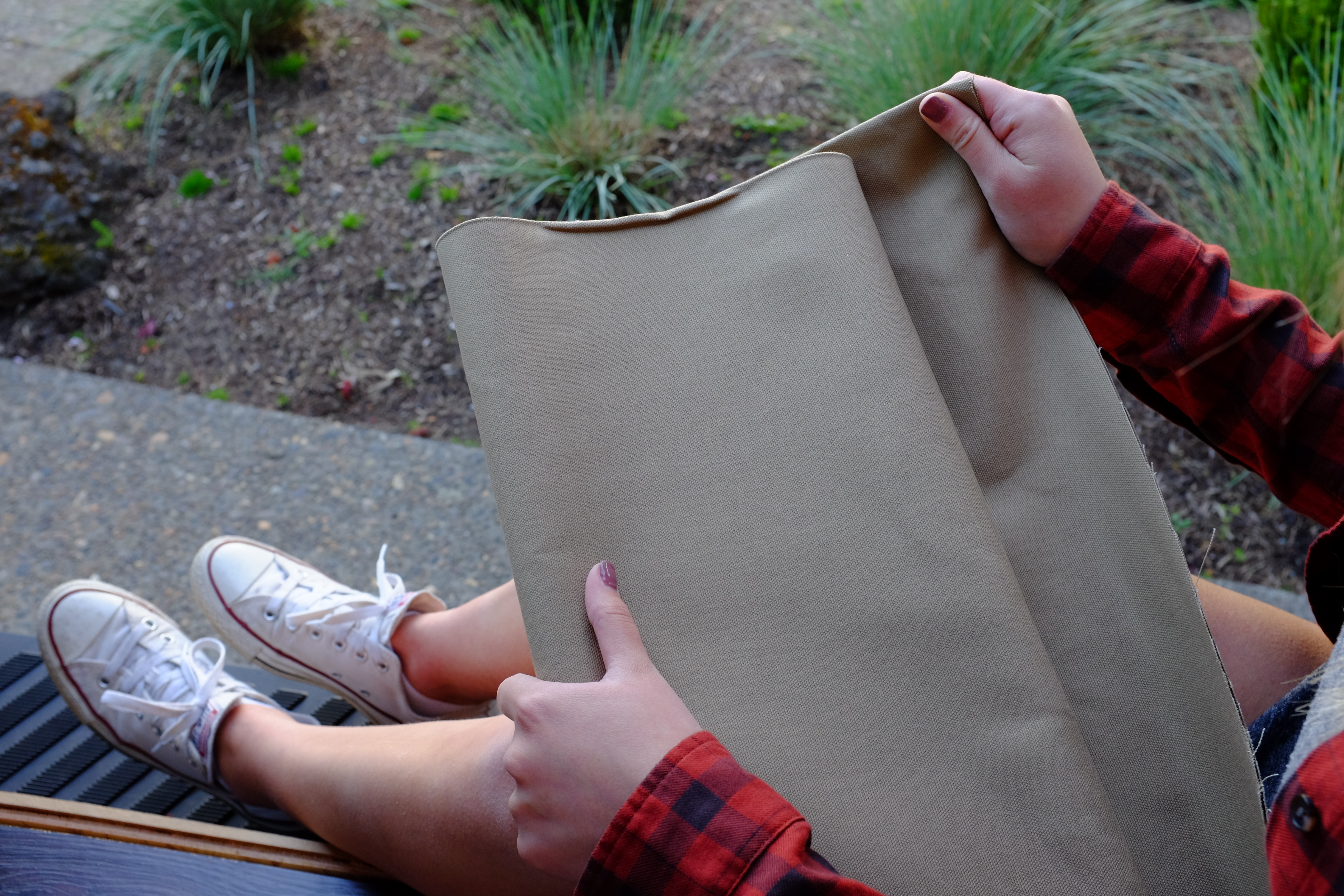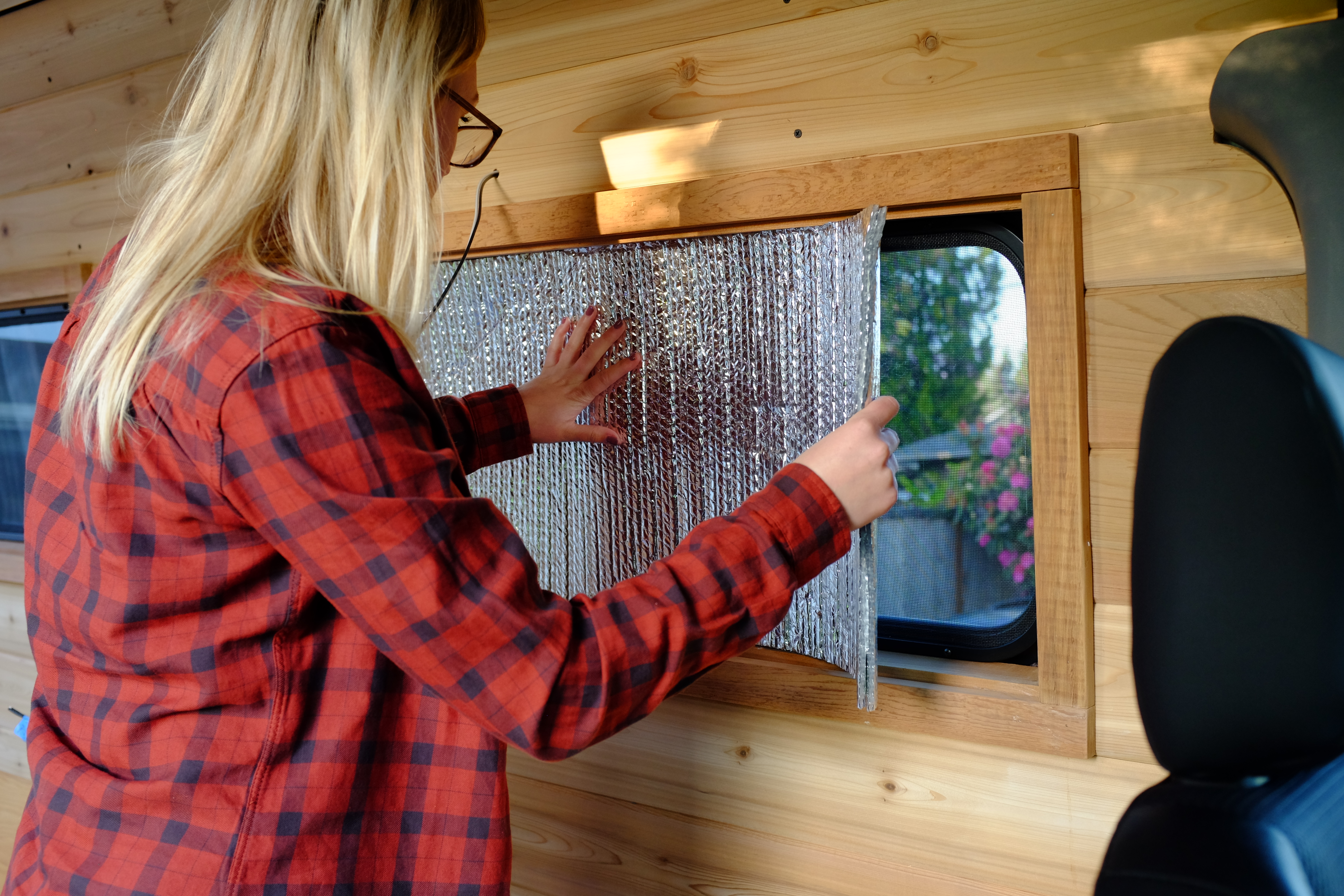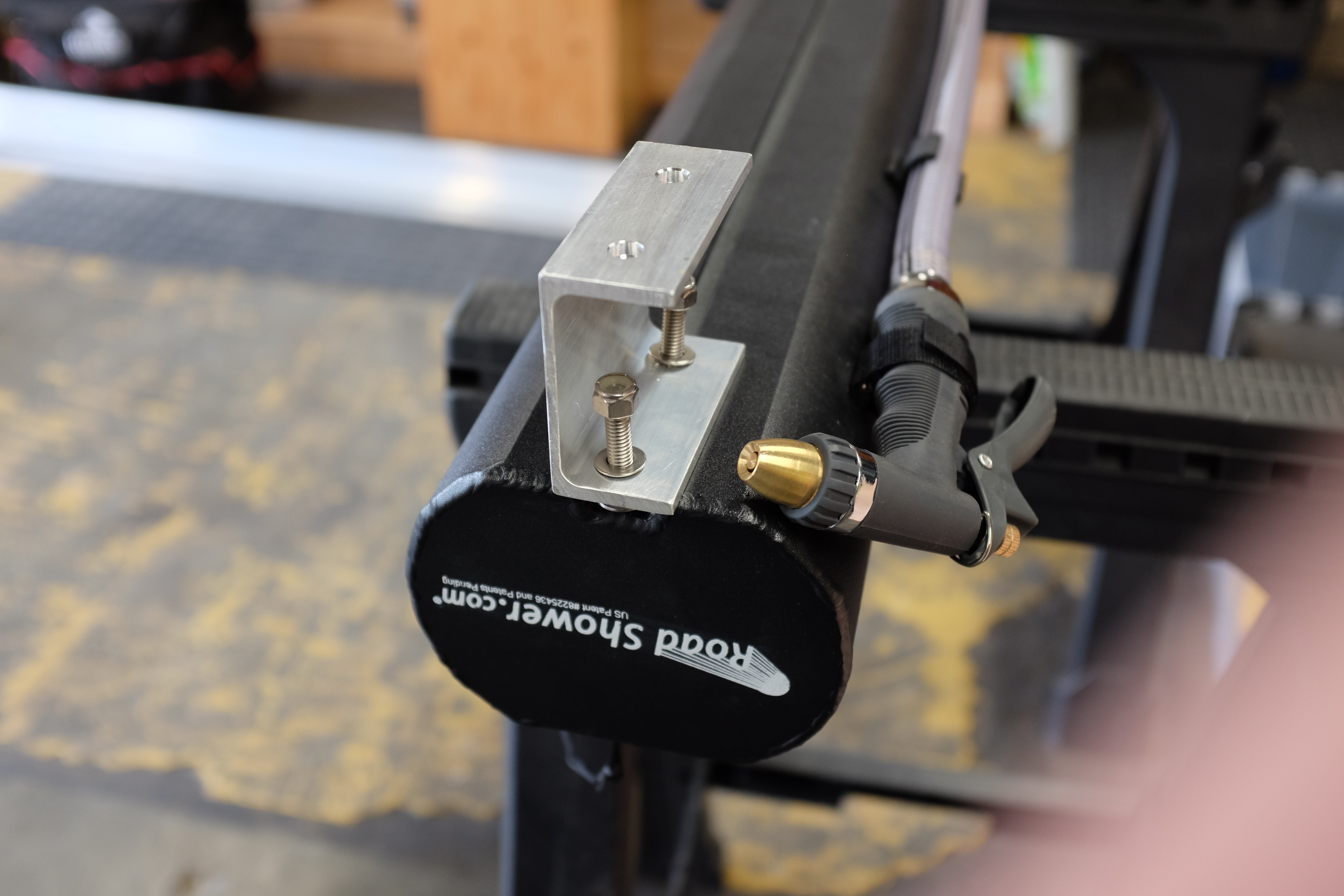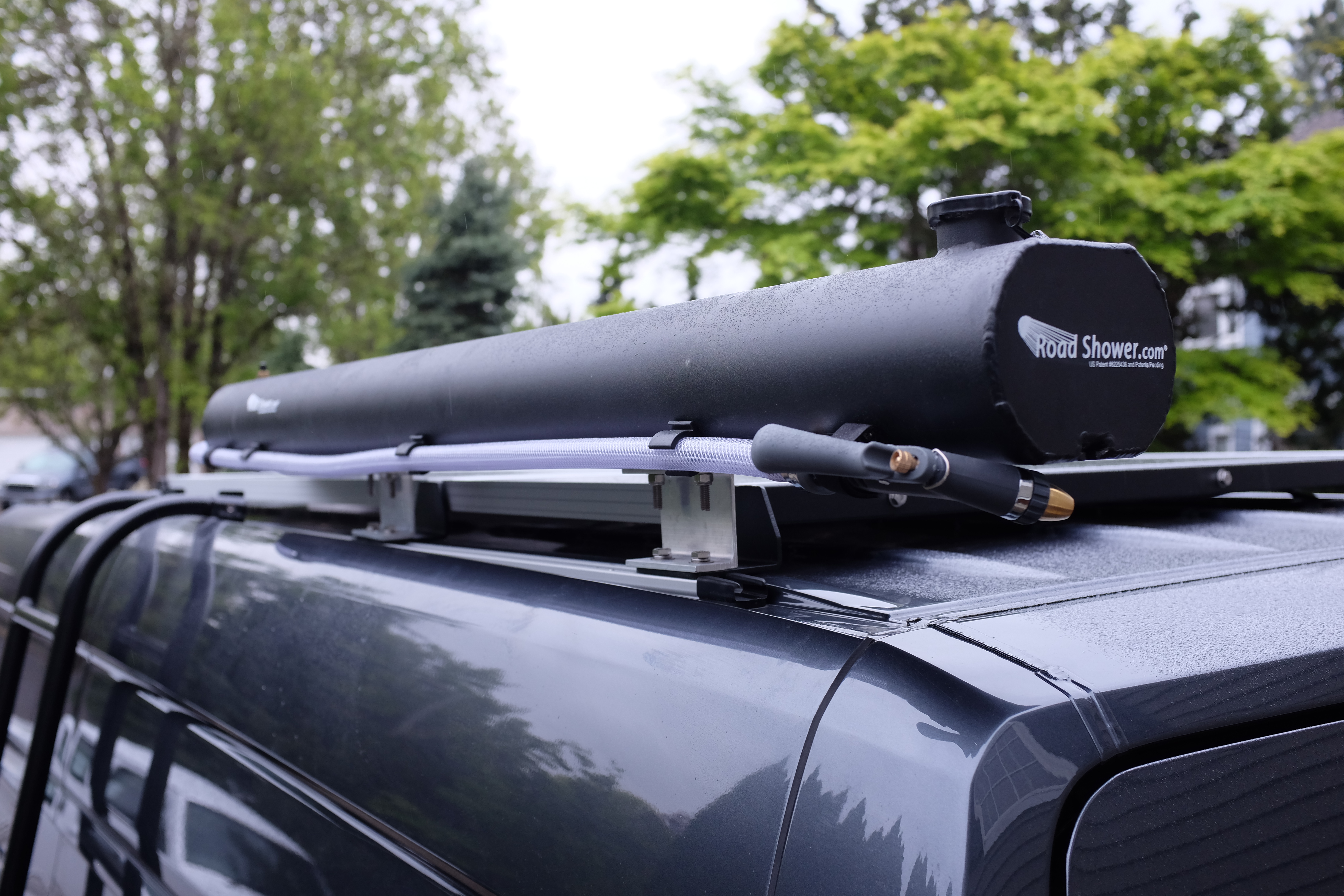 With the cabinets installed, we were also able to finish more of the frame work. Particularly, the fridge is now in the van/hooked up and the bed frame is built, trim pieces and all. The under-cabinet lights are also in the works, with 1 installed already. Since everything is already wired, we were also able to install the lights switches (they work!). Other additions include more electrical wiring and installing (battery monitor system, solar charge controllers, etc.) and all our batteries in a custom battery box we built.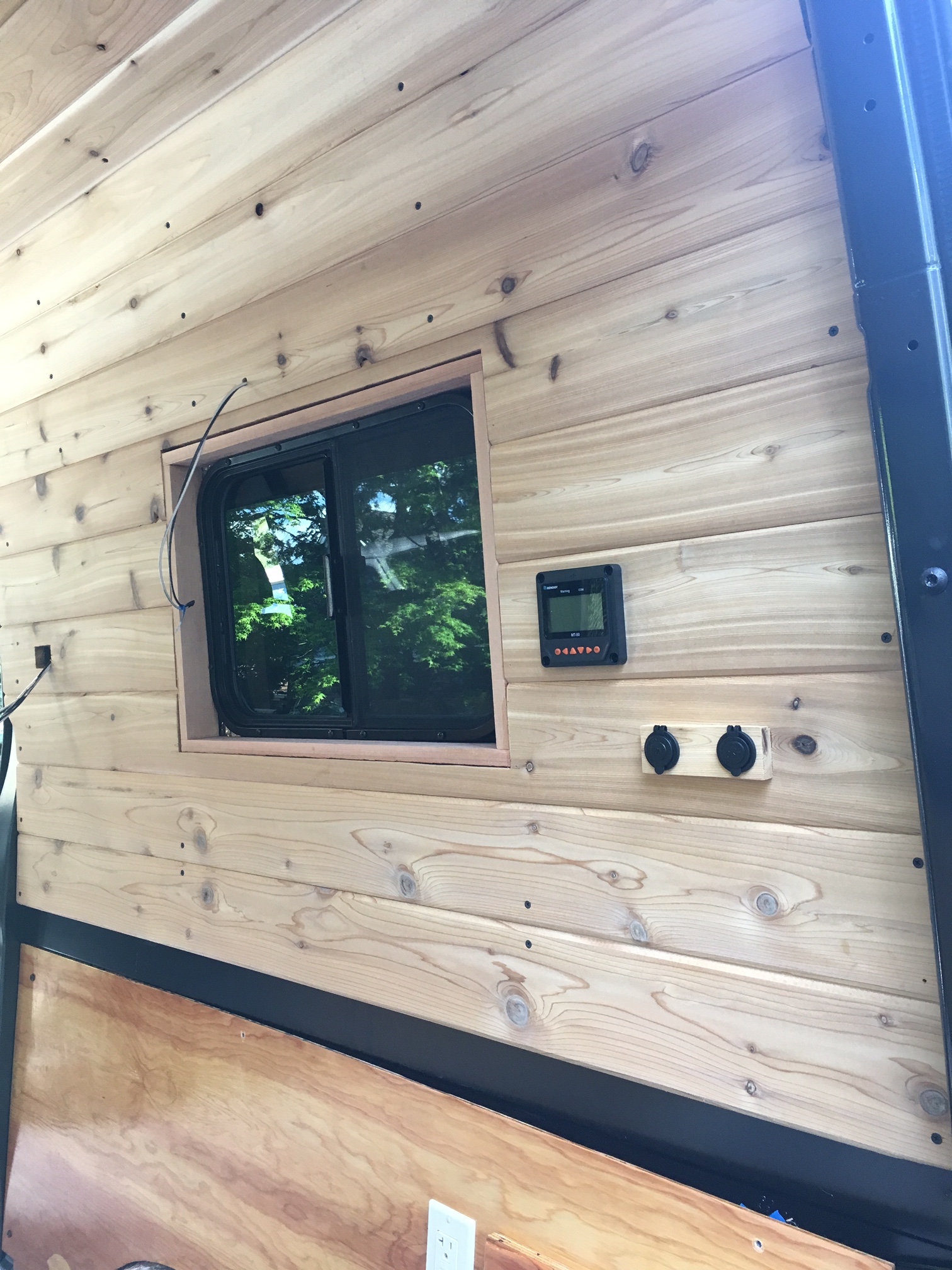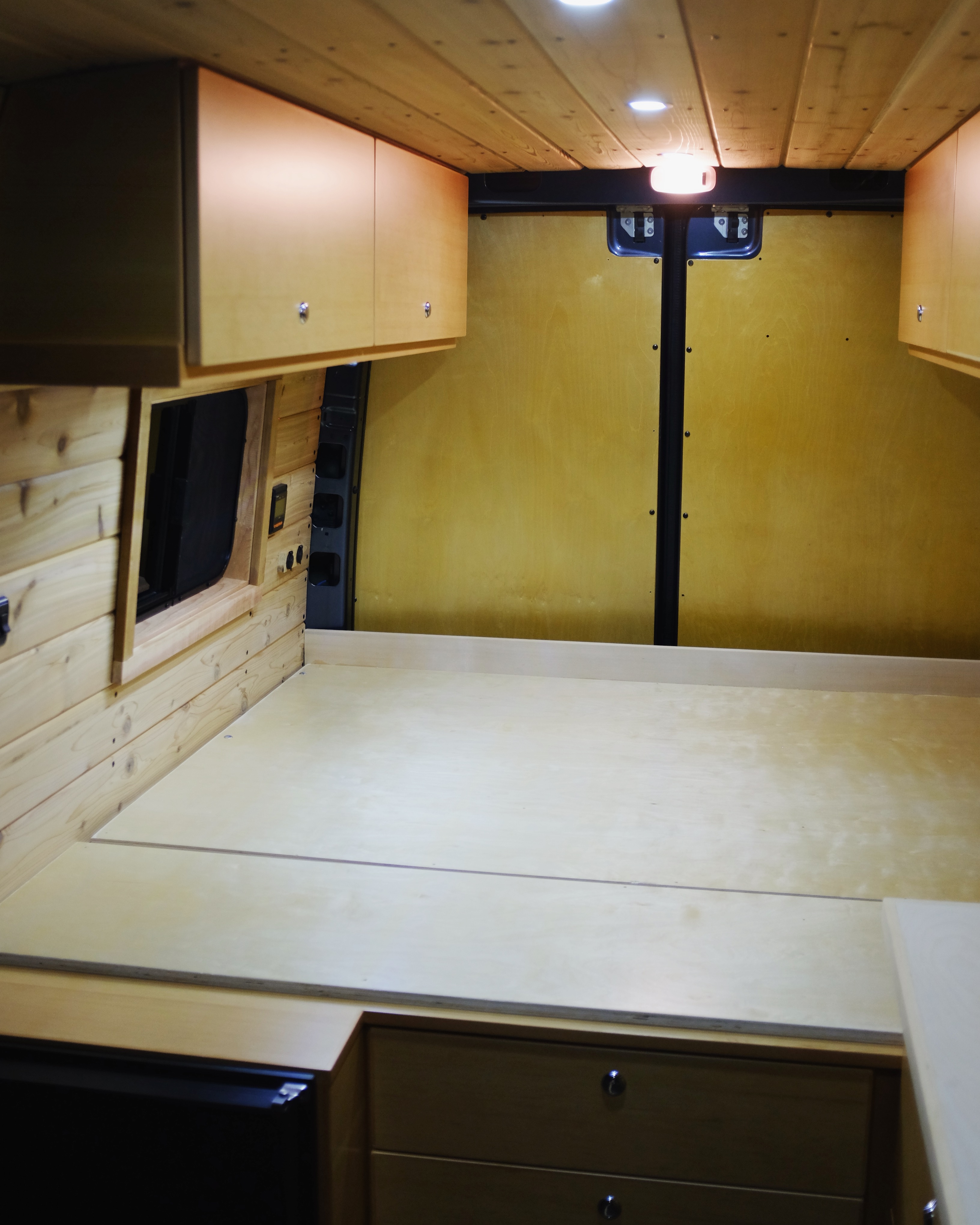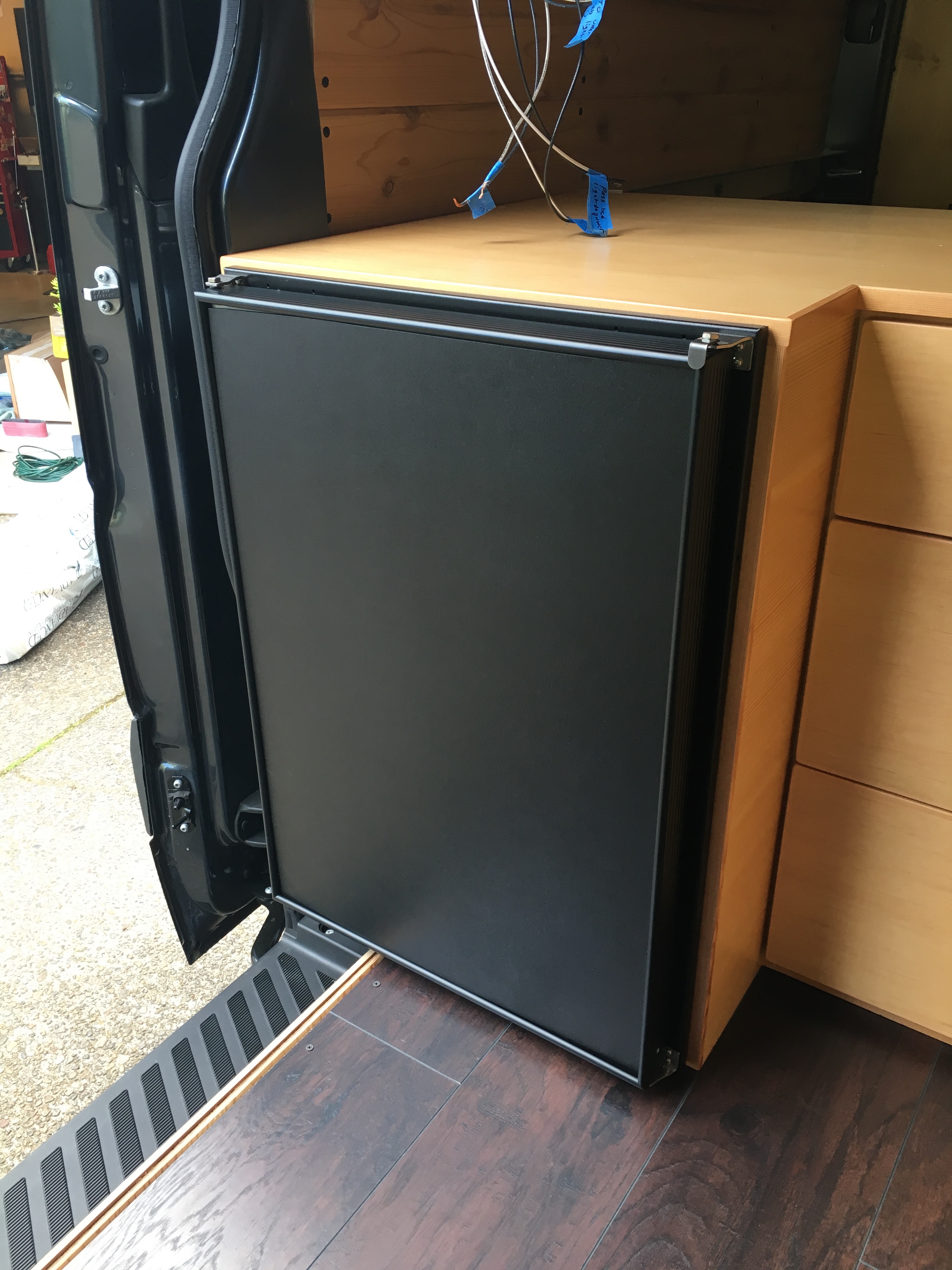 If you've made it this far, you deserve a beer. Thanks for reading and staying interested in our huge endeavor!