My goal for this summer is simple: transition from traveling full-time in a Sprinter to living a stationary season in Portland.
If you've listened to me talk about the last year of my life, you'd know that excited is an understatement. Traveling and living out of a van is, by far, the best thing I've ever done. I love waking up in a new place every morning, exploring new trails every afternoon, and watching the sunset over new landscapes each night. So you can only imagine the heartbreak that ensued when we decided to come back to Portland for the summer. Evan received a season job in Central Oregon and this just felt like the right call. Cue the title: "the Summer of Transitions". Various aspects of my life are changing, mostly all for the better. Even so, working through transitions is not exactly my strong suit.
You may be asking yourself, "But your plan was to only be gone for a year then come back?"
You're 100% correct. We saved (what we thought was) enough money to travel for a year and explore all 50 states. In June 2017, we moved into our 144″ WB Mercedes Sprinter and hit the road. Between our fast-paced travel style and visiting new, exciting places regularly, I ran out of money much quicker than expected. When December rolled around, I started seeking remote work and was willing to do almost any job. Somewhere around the 45th application, I found a job posting I was ACTUALLY interested in. The posting was a "Social Media Specialist" position for a women's adventure travel company, called Travel Her Way. One thing led to another and I began working part-time in January.
While working for Travel Her Way was and still is wonderful, it wasn't enough to sustain life on the road. I began seeking further part-time employment and came across the "Editor-In-Chief" position for Go-Van, an online magazine about vanlife culture. After applying and going through the interview process, I was hired in March. Between two jobs, I was working roughly 30 hours per week with a flexible schedule and a lot of autonomy. While it definitely changed the way we traveled, I felt more fulfilled by setting and achieving goals regularly. Financial stability was also obviously a game-changer. For the first time, we were able to dream about our lifestyle becoming long-term, without any end date in sight.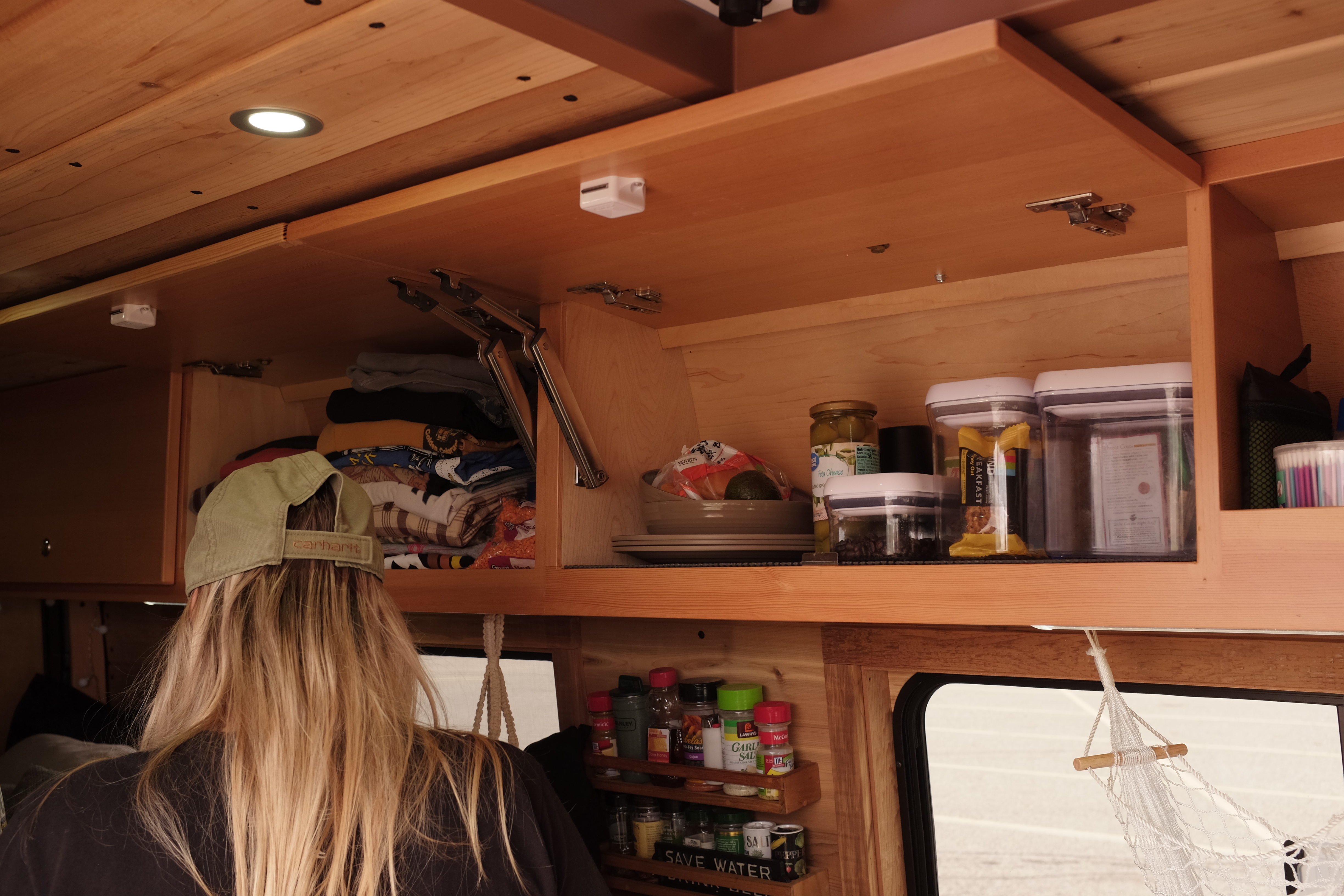 Our days transitioned from focusing on sightseeing and traveling, to simply enjoying life on the road and a slower form of travel.
For the first time, we were staying in one location for longer than a night or two. I fell in this love with this middle phase. I was able to perform really well with work, while still hopping out of the van in the afternoon for a hike. However, our form of travel was really focused around my jobs and WiFi, which didn't seem fair for my partner. Additionally, Evan knew he was going to have to find employment soon and a seasonal job opportunity came up. After many, many discussions, we decided to head back to Oregon in May so Evan could start his new job in June.
We've been home for a little over a month now and it is the weirdest transition I've ever experienced. I've moved time and time again, worked abroad, transferred colleges, but none of those compare to this change. A few examples of things I've struggled with…
I am required to shower more often than every 2-3 weeks
People will call me out if I wear the same outfit more than once
I can't just go to the bathroom wherever I want
The outdoors need to be pursued when I'm not living in them
I'm not as used to being around people as I thought
It's not that I'm not happy being stationary. There are so many perks to living a more routine life, surrounded by friends and family. But living out of a van required me to slow down, be present, and pay attention to myself. My quality of life skyrocketed while living on the road. And now that all that excitement, time, and newness is removed, I'm not really sure what to do with myself. Thankfully, the universe is usually paying attention to what we need.
In the last month, my hours for both positions have increased and I am loving what I do more than ever.
My work with Travel Her Way allows me to empower women, inspire others to get outdoors, and promote travel in general, all things I'm passionate about. Working with Go-Van has been a game changer, to say the least. Even while being stationary this summer, I am so submerged in the culture of vanlife and the amazing community behind the lifestyle. Moreover, my work with Go-Van has ignited something within me that even a year on the road didn't light. I feel that now, more than ever, I am eager and excited about the adventures of my future. While my first year on the road may have just ended, my presence in vanlife culture has just begun.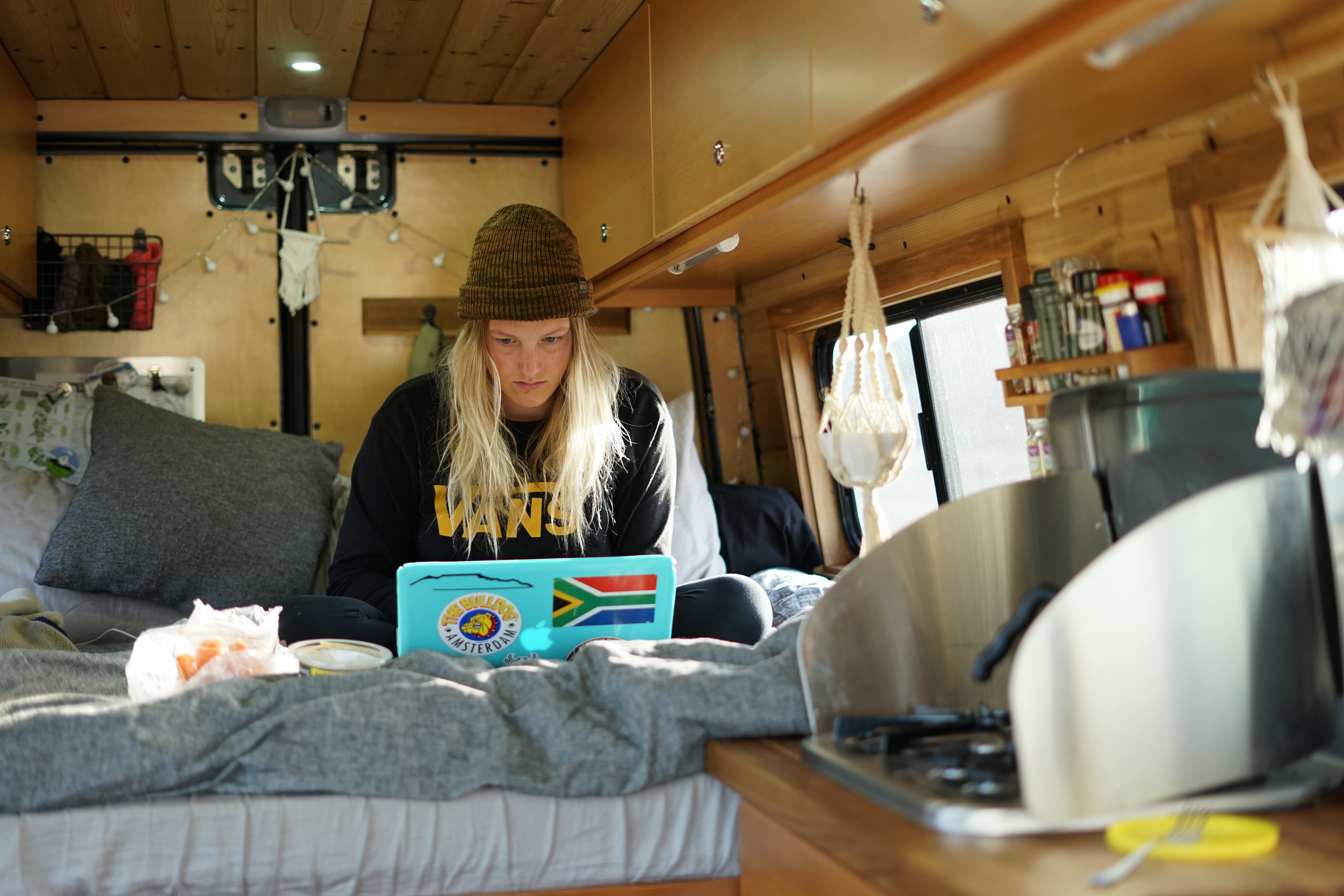 Hitting the road full-time in a Sprinter has created this massive snowball effect in my life.
If there's one thing I've learned in the past year, it's how important it is to work with companies and brands whose values and missions align with mine. In all my work, my goal is to empower others, promote outdoor exploration, and give back to my community. Working for Julien, the founder of Go-Van, has taught me to value brands that support digital nomads and travelers in general. As I work towards finding my next step in this transition, I look forward to expanding my skills and diving deeper into the world of remote work. While I am wholeheartedly dedicated to the companies I am working with currently and plan to stay with them long-term, I've recently received some exciting opportunities to freelance on the side. I am stoked to continue branding So We Bought A Van and can't wait to see where this crazy endeavor takes me.
What began as a year of travel turned into a single remote job, which then turned into freelancing and has now become an entirely new lifestyle. It feels like I'm continuously gaining momentum and each new thing that happens is more exciting than the last. This new site couldn't have come at a more perfect time! Even through my current state of overwhelming unsureness, I feel more energetic than ever and will continue to stay dedicated to taking control of my life.