This post is in partnership with 76® but all opinions are my own. Don't forget to check out their vanlife campaign here to learn all about Jean and Gene and their own van adventures.
---
When people ask me what living in a van is like, I usually respond with something along the lines of: "you have to learn to be comfortable with being uncomfortable".
The entire lifestyle is work and takes time, even from the beginning. The process of choosing a van and building it out is complex. Downsizing and learning to live with less is necessary. Figuring out where to sleep at night or where to take a shower can be stressful. The good news is that there are thousands of resources online to help along with the build process and the logistics of living on the road. Between YouTube, Reddit, Instagram, and more, you can find information on just about any factor of vanlife.
While I've lived in my van full-time for a year and a half now, there are still times where it feels like I was just starting my own journey not long ago. I can't even begin to tell you about all the messages I sent to fellow vanlifers, forums I browsed, or YouTube videos I watched. I was eager to request advice and ask general questions about useful lifestyle gear. Then, I put together a very thorough list of things I wanted to purchase before I felt comfortable hitting the road.
This list of materials or items I purchased throughout the process of building my van and preparing to move into it is in the hundreds.
(*Note: this is not necessary – this was just how I chose to tackle my lifestyle shift.) Even so, there are a handful of items that are reasonably priced, under $76 that I would consider essential to my build and life on the road. In my efforts to serve as a resource to you, I've curated a list of some of my essentials for van living.
I figured I would start with my heat source since it is among the most frequently asked questions. While I personally use the size up from this particular link, I thoroughly believe I could have gotten by with this smaller size. The heater runs off propane and is able to thoroughly heat the entire van up within 15 minutes.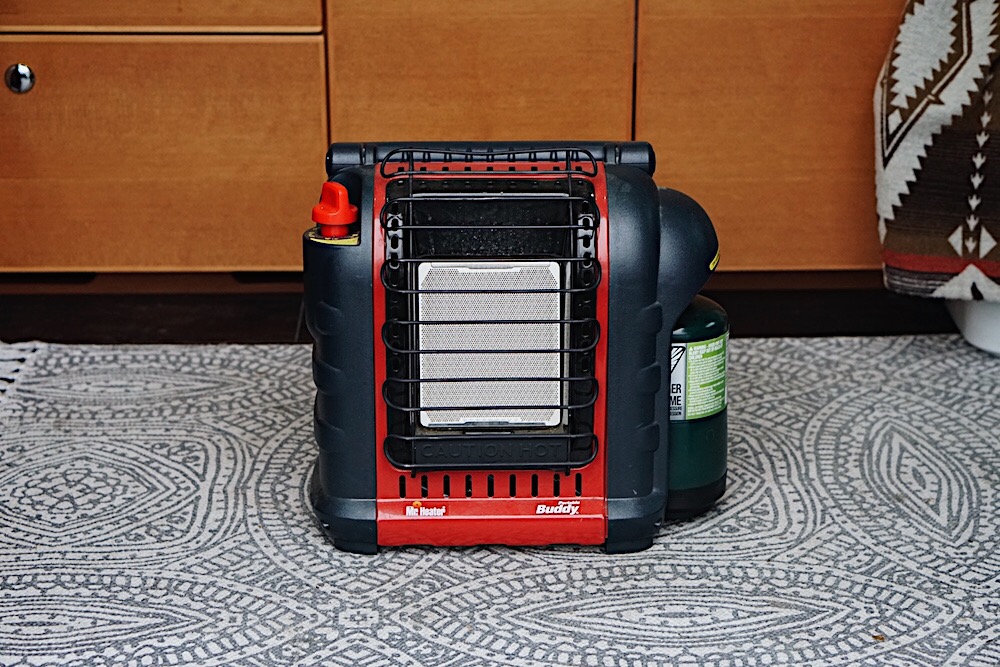 If you've ever spent time with me, you know I SWEAR by this cup. This tumbler and lid were purchased at REI for just under $35 and have become a staple to my days. Every morning I make coffee but I don't necessarily like to drink it fast or even right away. This specific mug keeps my coffee warm ALL day, meaning I can even leave it in my cold van, go for a 4-mile hike, and still come back to warm coffee. It is especially useful for holding leftover beverages, which I often rely on during afternoon driving sessions.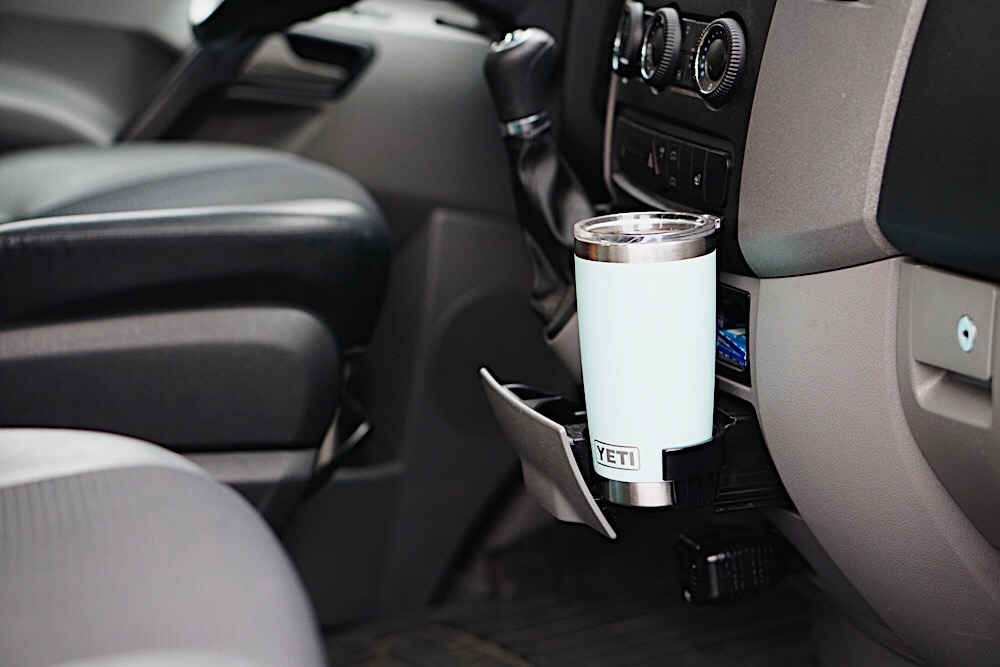 My van build does have a 2-burner propane stove built into the kitchen but most of the fun of living in a van is enjoying the outdoors, including cooking outside. I carry this supplemental stove for when I get those cravings, especially when I am traveling with fellow vanlifers. This stove is inexpensive, efficient, and perfect for traveling. The case is small and barely takes up any room. It also runs off small butane canisters that tend to be cheaper than propane canisters.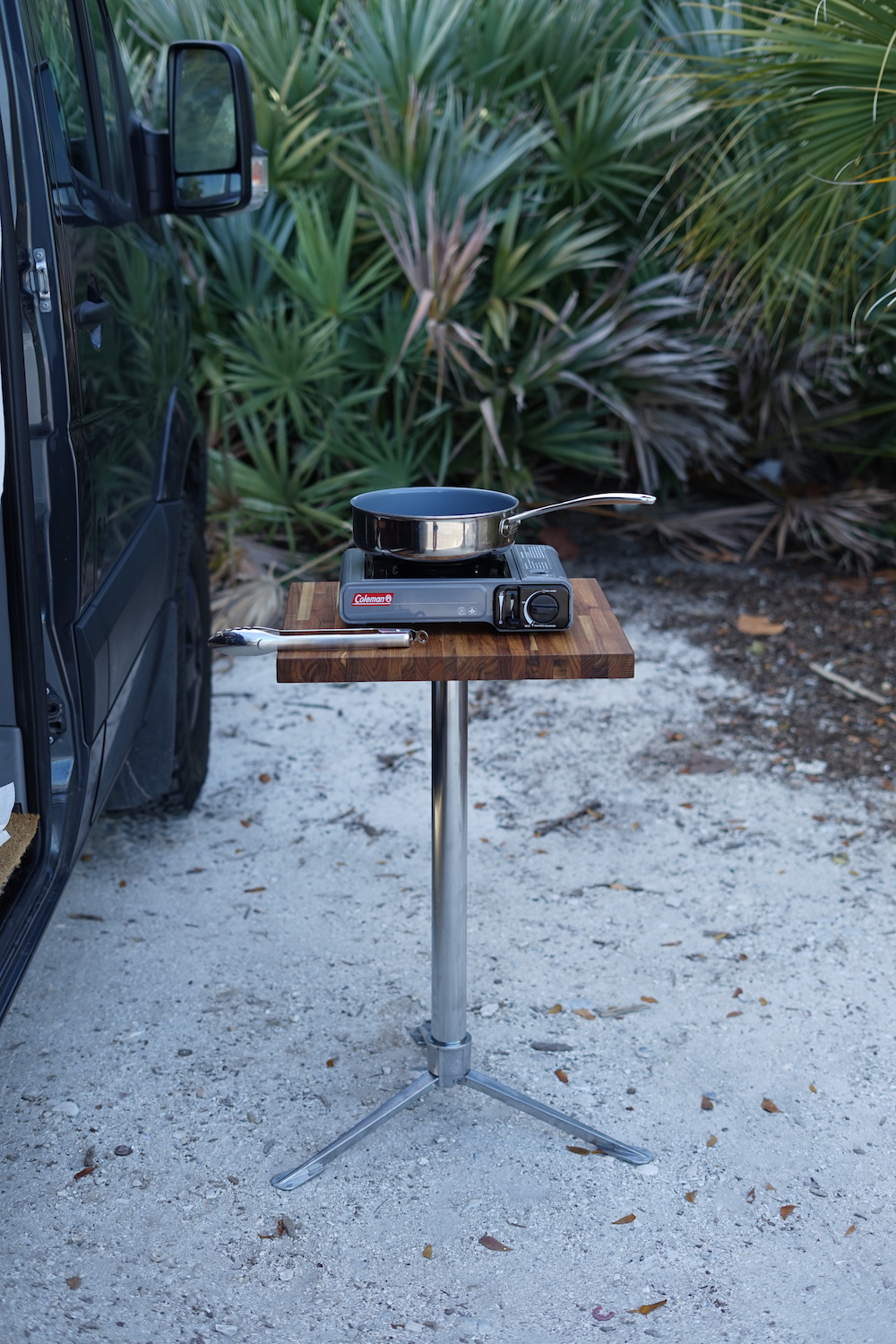 Many vans that I spend time in have green canisters of propane rolling around in them. Instead, I use a refillable 1-gallon steel propane cylinder that I am able to easily remove from the rear of my van. I simply drive to any gas station that offers propane service and usually pay under $2 for the fill. Depending on how much I am cooking, this can last me anywhere from 3-4 weeks, making this option much more affordable and environmentally-friendly.
Man, oh man, has this thing come in handy. In the past, I always made an entire french press of coffee in the mornings. Since becoming a solo traveler, I was still using the french press, which led to me drink more coffee than was really necessary. Recently, I switched to this pour over and have been LOVING it. Filters are required but they are very inexpensive and can be found nearly everywhere.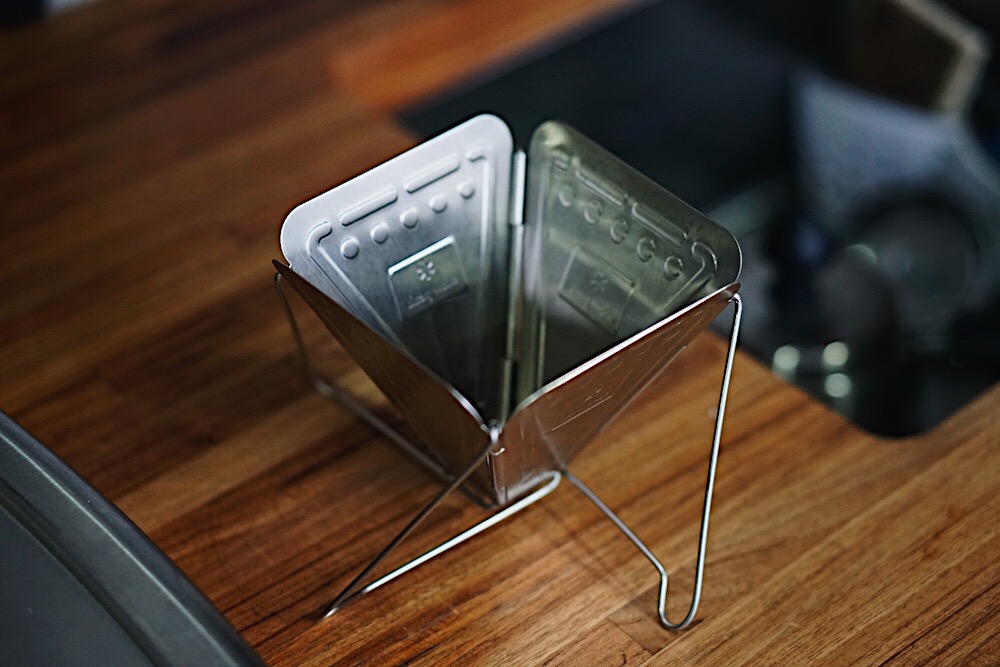 If you haven't jumped on the cast iron train yet, it's probably time. Not only do I love cooking with them, the cleanup process is far simpler than any other pots or pans. In fact, I know many individuals who live on the road and this is the only pot/pan they carry. It is universal, efficient, with easy clean up. What more do you need? This specific cast iron at Bass Pro came pre-seasoned with many cast iron accessories.
This electric water pump is a feature of the van that I don't notice often but am always grateful for. Many people prefer a hand-pump to keep themselves in check with water consumption but I've never once regretted buying this. It does require additional wiring and an extra switch somewhere in your build (and it can be noisy), but in my opinion, it's worth it.
Directions can be a hassle, especially when traveling alone. I'd like to pretend that I trust myself well enough to drive by feel, or simply looking at a map once and feeling oriented, but I can't. While my sense of direction has definitely improved since living on the road, I still rely heavily on directions from my phone. Safety first (of course) so I find that this mount holder is perfect. I simply type in my destination, click go, and mount my phone to the holder. Personally, it is mounted to the dash on the left side of my steering wheel so it is visible but out of the way.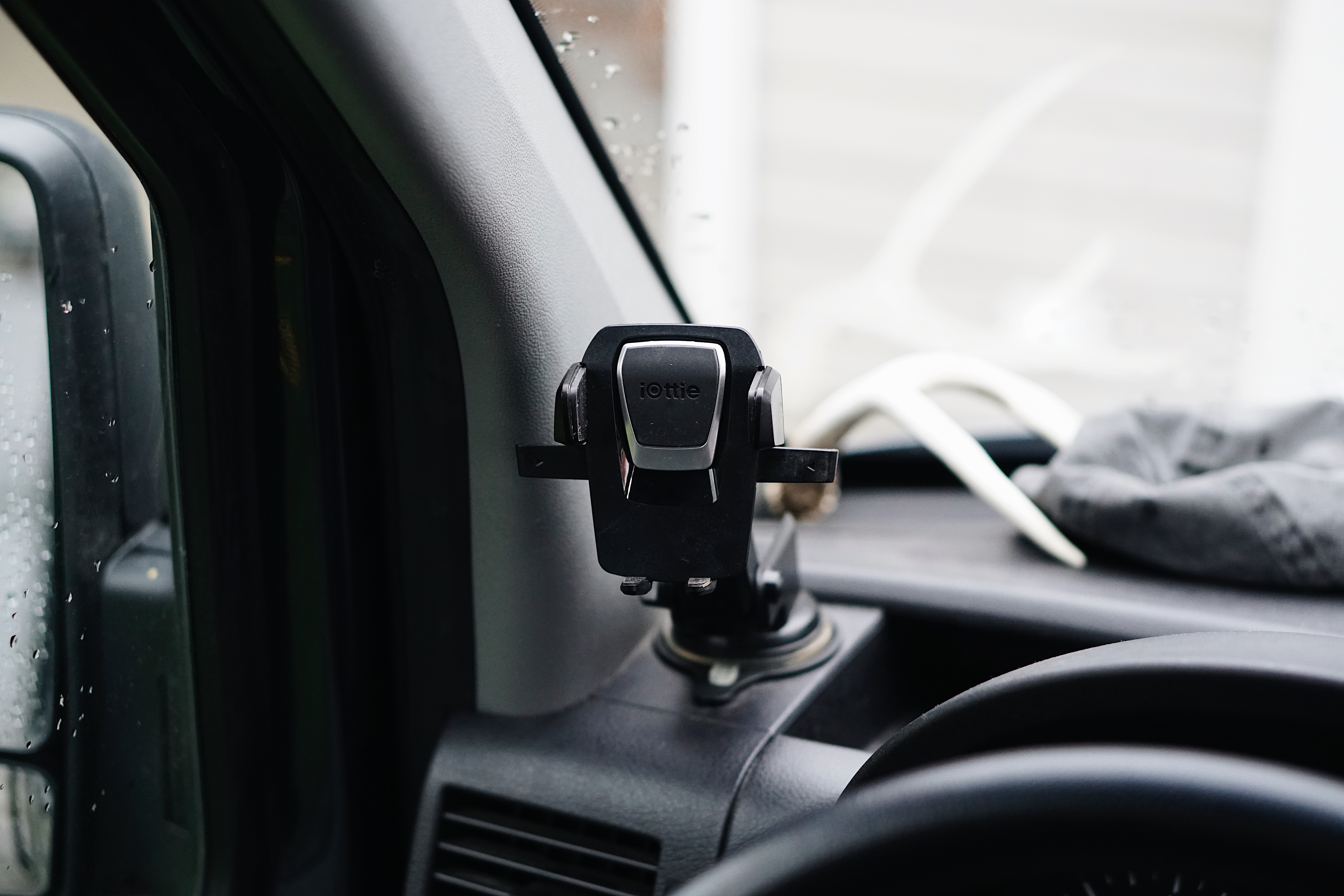 While definitely not necessary, having a safe in the van gives me a sense of peace. Honestly, it is usually completely empty; however, if I am leaving my van for longer periods of time, I feel comfortable knowing that I can put important items or documents in a safer environment than simply inside the van. If needed, I can even fit my entire laptop in it. Proper installation is required to ensure the purpose of the safe but I like knowing it is there.
This final item is more fun than a necessity but I've found that it adds joy to my days. It's also one of the few places you can just sit in my van since I don't have a bench or table. The design of my hammock was inspired by Laura of @thatconnectcamper, who had a similar design in her previous van. By removing the bar that comes with the hammock, installing triangular-shaped hardware into the door track, and using quickdraws, I have a fun area to hang whenever I please. I personally prefer to use it for journaling and reading, finding that it serves as a makeshift change of environment when needed.
While the "essentials" will vary from person to person, I've found that these are items I am regularly grateful for. Some serve a purpose to the build, and some serve a purpose to the traveler. Either way, they are useful and affordable, both things I always appreciate.