We wanted to give a brief breakdown of the kind of wood we decided to use throughout the van build. 
Although we haven't installed all of the wood yet, all of it is ordered or in our possession. Here goes!
Walls/Ceiling:
Since we started planning the build, we always knew we wanted to use a lot of cedar. We love the look and feel of the wood and have always admired van builds that we've seen use this material. Similar to many other vans, we wanted to use tongue and groove cedar boards for the ceiling and walls. The cedar boards are from Parr Lumber, measuring ¾-inch x 6-inches x 12-feet and unstained. We didn't want to wood to look too red, so we went with a more natural look of unstained wood.
We also wanted the cedar to have some texture to the look, so we chose tight knot cedar. Additionally, we ordered a single 1-inch x 6-inches x 12-feet board for the middle of the ceiling. We purchased circular lights that are going to run on this middle board of the van and we wanted to make the lights stand out slightly. Lastly, we purchased 1/4 inch fir plywood for the lower panels, since they will barely show beneath the bed and behind the kitchen vanity.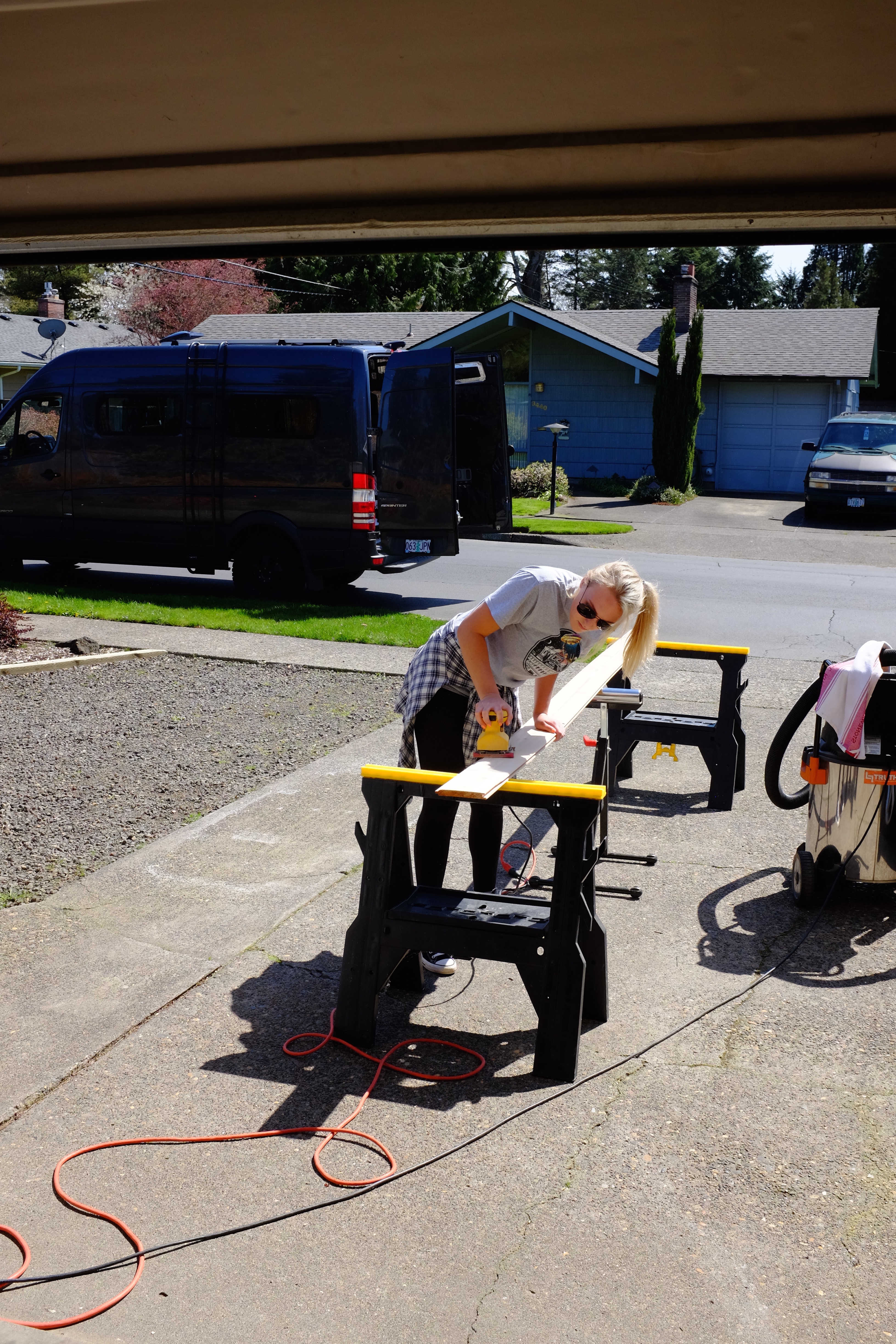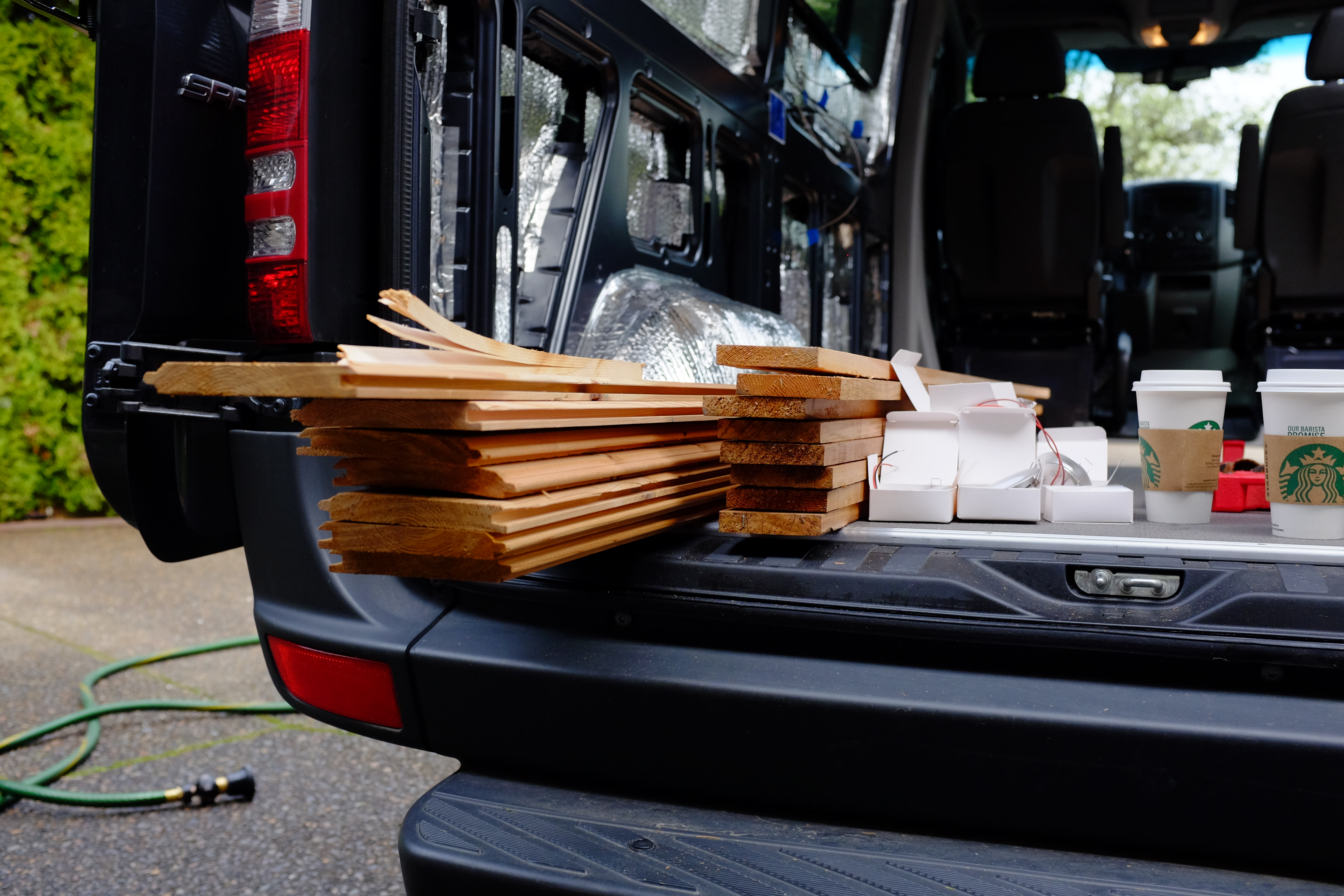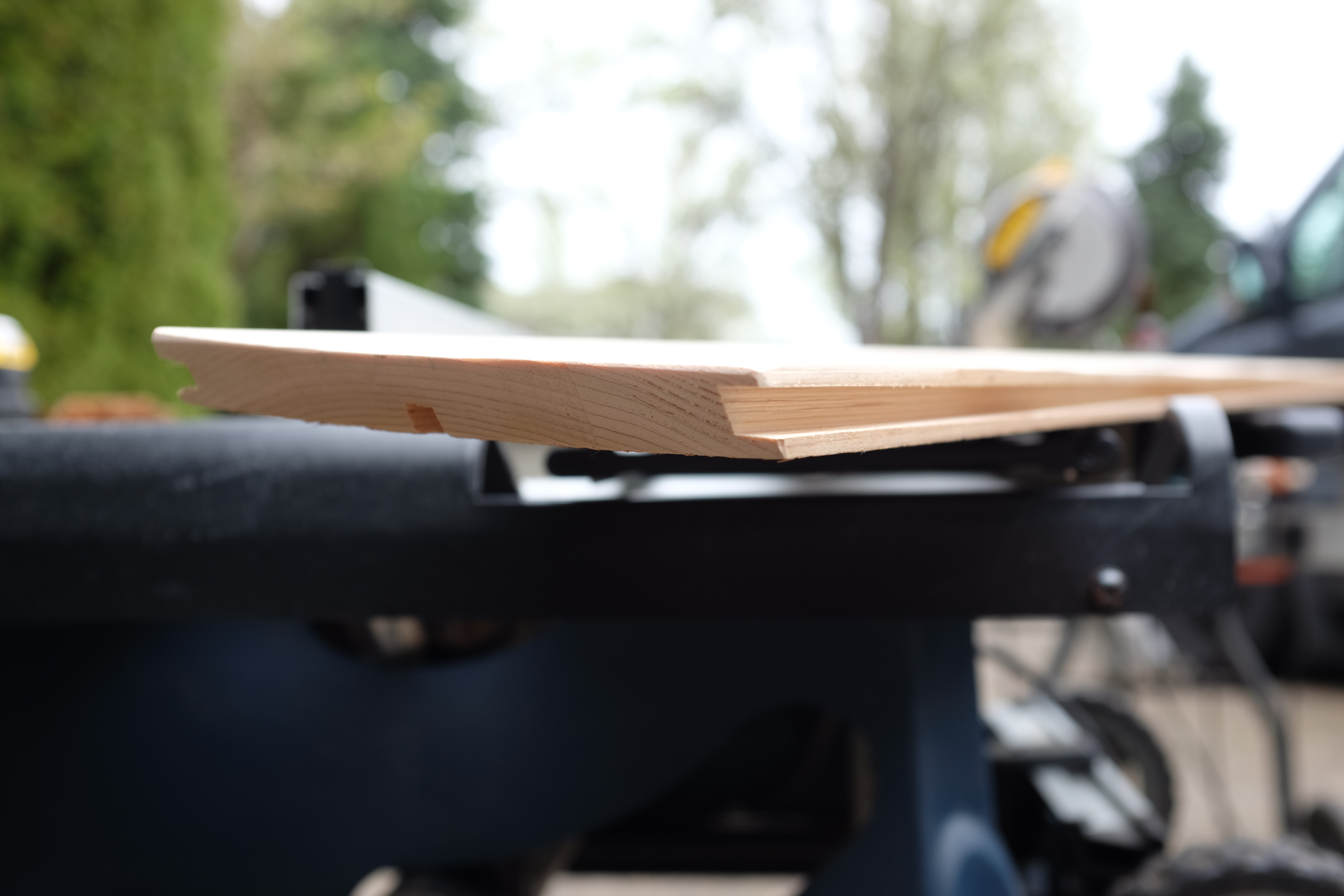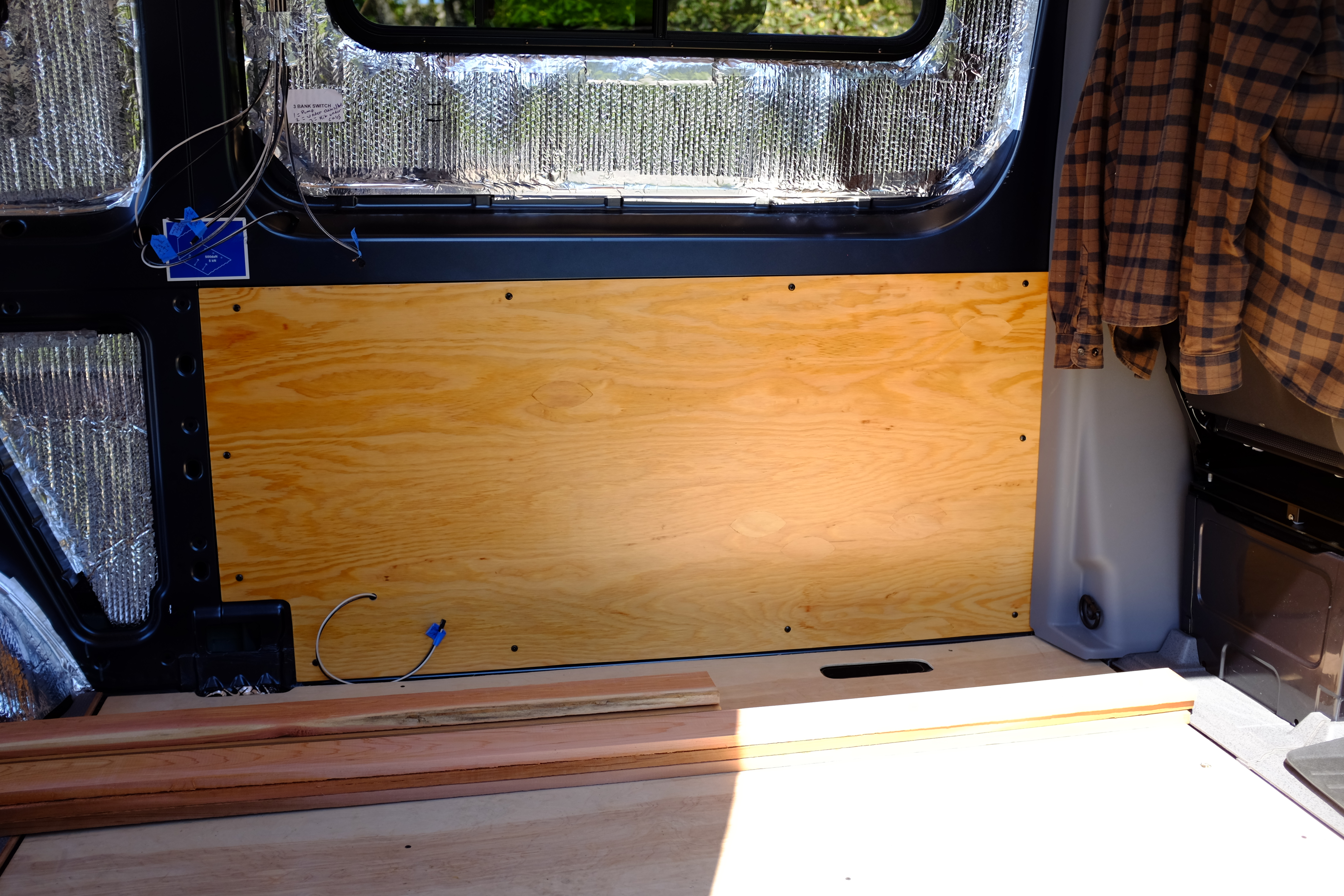 Floors:
Originally, we fell in love with dark bamboo floors and were set on using the material for our small section of hardwood near the kitchen area. We went to Home Depot, picked out the color we liked, and went to purchase it. One of the workers asked what it was for and when we explained, he highly recommended that we use a different material due to lack of flexibility in bamboo, requirements for cutting the wood, and swelling if the floor gets wet.
After much discussion and hesitation, we decided to purchase laminate flooring. It is super easy to install, more waterproof than wood, flexible, and thin (we only have about 2 inches of wiggle room when considering the floor and ceiling because Evan is so tall). Our laminate floor looks very similar to dark bamboo so we thought it was a compromise. Purchased at Home Depot, the floor is made by Stanhope and has a Hickory color to it. You can view them HERE if you'd like!
Door Panels:
As described in our "Phase 2" post, we purchased RB Component's wood panels for our back doors and sliding passenger door. All these panels are made from ¼" White Birch Plywood. We figured the amount of time and precision it would take to cut these ourselves wasn't worth it. Instead, we bought these panels that are already cut for our doors and decided to sand and stain them ourselves. We finished the last coat on them and have already started to install them!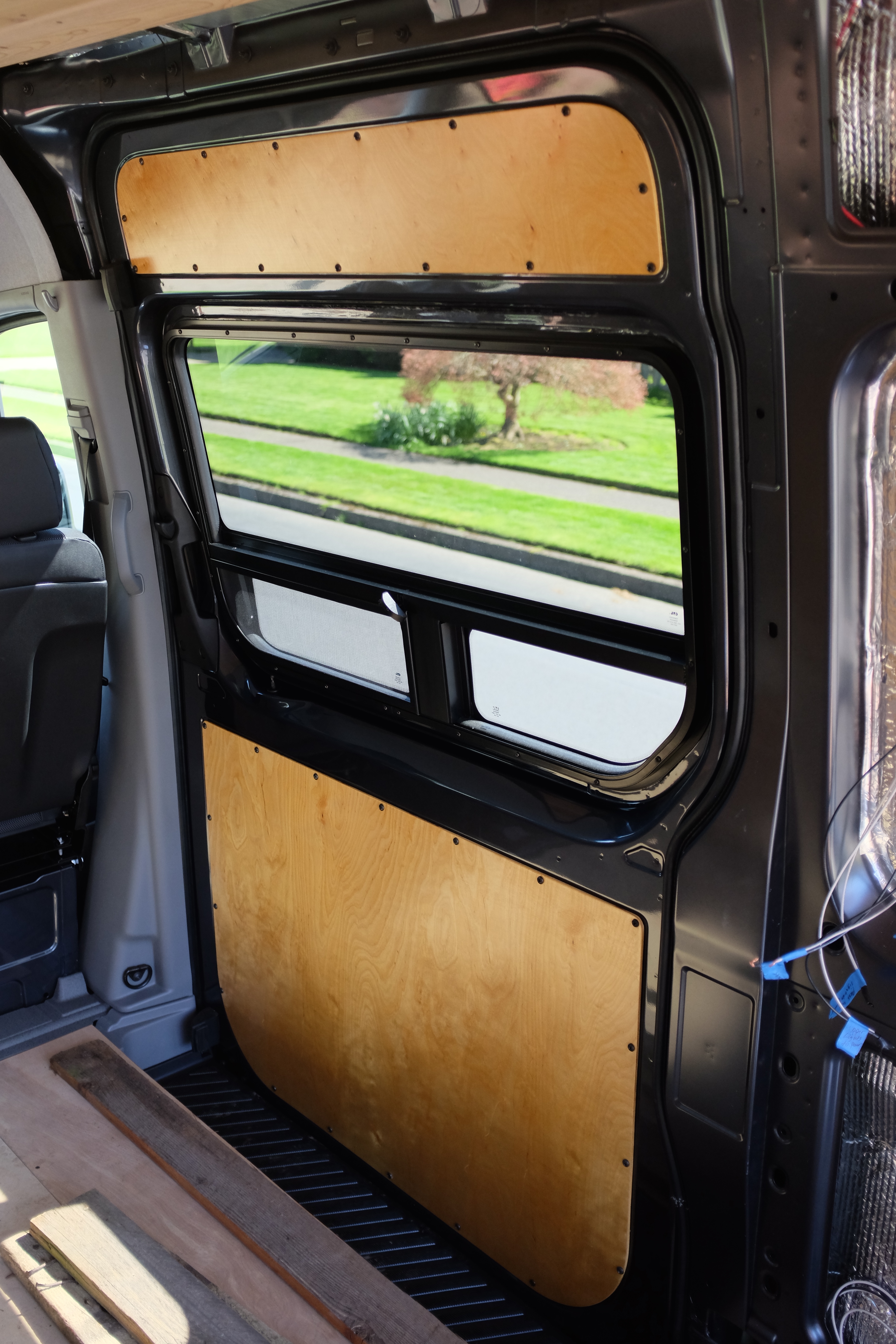 Cabinets:
Our hanging cabinets, kitchen vanity, "dresser" drawers, and frame for our fridge are all made of fir. These were built professionally since they are such a focal point of the entire van. We really wanted them to look crisp and well done, so we took all the measurements, designed the cabinets, and placed the order. The cabinets will be completed in about a month and we can't wait to see the final product!