Everybody has a junk drawer.
When I was growing up, the junk drawer was usually full of pencils, notepads, and a bizarre amount of erasers from the scholastic fair. Even as an adult, I've had a miscellaneous drawer or cabinet in every place I've lived. A junk drawer is a necessary thing – a place where you can just throw something that you know you'll need eventually but you're not sure when. Or, if you're a neat freak like us, the item just may not fit the theme of your other uber-organized drawers.
When we first started talking about doing life on the road, the to-do lists began, even before we had actually purchased the van. We had a detailed list of things that we had or knew we would need to pack eventually. Additionally, we had a list of items we knew we'd need (or want) on the road but still needed to purchase. Many of the items you'll see detailed in this post were on that original list. The other thing they have in common? They're "home" is an easy-access, miscellaneous drawer, located right in the center of our build. You can reach the junk drawer from the bed, kitchen area, AND from outside the van reaching in. It holds quite a bit more belongings than listed below, but these have been some of our staple items since moving into the van.
Leatherman Tool
Most of our tools are in the back of the van, deep in a tub, and are a PAIN to get to. We've found that the Wingman Leatherman satisfies our everyday tool needs without taking too much space. It has two knives, screwdrivers, a small tape measure, and more. Even before we lived in a van, we both carried Leatherman tools around in our car glove boxes since they are so flipping handy.
Frisbee
A little more fun and a little less practical, but we use our Frisbee all the time. If we're at the beach or a park, you can bet your bottom dollar that the Frisbee is out. We don't know any fancy games and by no means is it a top notch Frisbee but it does the trick. (It's from freshman orientation in college). We'll probably end up buying a nicer one but in the meantime, we can throw it around without worrying about losing it.
Medical Kit
We knew we needed a medical kit for this trip. We ended up buying the Mountain Series backpacker kit for 2 people/4 days from REI. It is SUPER organized and a great first aid kit for the van. It even includes a detailed book on wilderness first aid and safety. We've been lucky enough to not have to use it but we're in agreement that it would be irresponsible not to have this in the van with us.
Go Girl
If you're not sure what this is and you're a female who enjoys outdoor exploration, do yourself a favor and google it. It's basically a compact, reusable device that allows women to urinate while standing up. I (Katie) haven't had to use the GoGirl much but it does tend to be cleaner and easier than simply squatting outside, especially if you're carrying a backpack. We've also been in situations where our toilet is full and this has definitely come in handy. Plus, what woman hasn't dreamed of going to the bathroom while standing up?
Tea Lights/Holders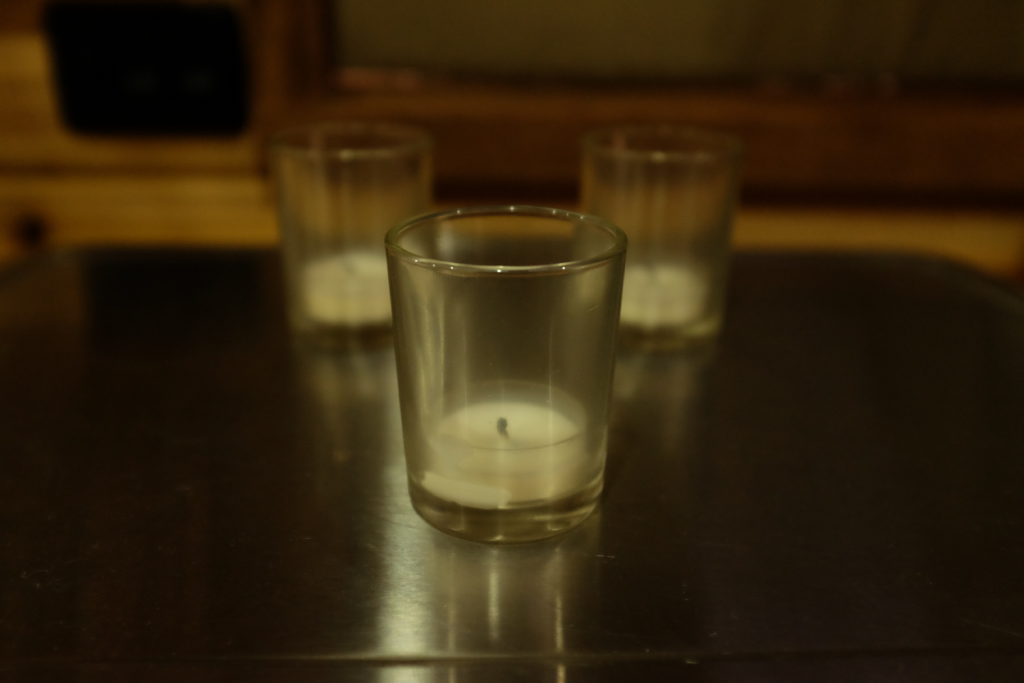 While we haven't used these quite as much as we imagined, it still is nice to be able to set them on the dinner table when we'd like. Let it be known that many of our meals are eaten just sitting on the floor of the van. However, we occasionally like to set up the tablecloth, tea lights, and put flowers on the table. It really makes where we're parked feel more like home. Also, it reminds us of Evan's Mom, who always sets up tea lights when we're over in the evenings.
UNO
We absolutely LOVE. UNO. If you've spent any time with us over the last 6 months, chances are we either made you play Uno or, at least suggested it. For a while, we were playing Uno every single day. (We've now expanded to some Phase 10 and Yahtzee). It's a quick game, pretty simple, but we never get bored of it, even with just two people! If you don't own Uno, we suggest you go buy it. Like now.
Solar Lantern
My little brother, Ben, gifted this to us right before we hit the road. It's so handy and it doesn't even require batteries. We just leave it on the dashboard and it charges throughout the day. Once you're ready to use the LuminAID packlite, simply inflate it and turn it on. It's a lot less harsh than a flashlight or lantern too. There are even different color settings. We've utilized the red setting to replicate a campfire, particularly over the summer when the fire bans were in place. Once you're done, you can easily deflate it so it lays flat in your junk drawer.
Stanley Shot Glasses
Don't worry…we're not just sitting in the car and taking shots. But when we've had friends visit, or are celebrating for some reason, these have come in handy. Stanley's shot glasses are stainless steel, super compact, and just add to the feeling of camping that we love so much. Use them for shots, mixed drinks, or whatever else you'd like (we even use them to measure out apple cider vinegar). This particular set came with 4 shot glasses and we've used them more than we thought we would.
Coin Jar
We originally had $20 in quarters because we thought we'd end up doing our laundry at Laundromats on a regular basis. Luckily, we haven't had to do that yet (thanks to everybody that has let us do laundry when we've seen you!) That being said, we have hit an UNREAL amount of tolls and had to pay for street parking more than we'd like to admit. Our vacuum sucks (no pun intended) so we've also been using the gas station vacuums, which only take quarters. Keeping all our coins in a small jar also helps keep our junk drawer semi-organized. It's been really nice to not have to think about getting cash back, asking for change, etc.
Headlamp
We make an effort to have things ready for our evenings and to relax once it gets dark. Occasionally, we've been stuck cooking dinner, chopping wood, or unloading the car in the dark. When this has happened, our headlamp has been so much more useful than a lantern or flashlight. The Black Diamond headlamp keeps both our hands free and a dimming feature, which helps us be respectful when we're parked near others. We've also done our fair share of cave exploration at National Parks around the country, which this has been super handy for.
While we have multiple tubs in the back of the van full of different gear or useful items, we've found these 10 items to be the handiest or our personal favorites. Each one helps van-life feel safer, easier, and more fun. We've also found that others we've met on the road have many of the same items…so we must be doing something right!